Best 10W40 Synthetic Motorcycle Oil in 2023
Oil change on a motorcycle is very easy for anyone at home. You need a spanner set, a drain pan, and the right grade of oil.
Many motorcycle manufacturers use SAE-10W40 fully synthetic engine oil for maximum protection and engine performance. It usually lasts for 8000 to 10,000 miles.
So, if your motorcycle manufacturer recommends 10W40 grade engine oil, I have reviewed some of the best 10W40 full synthetic oil for motorcycles.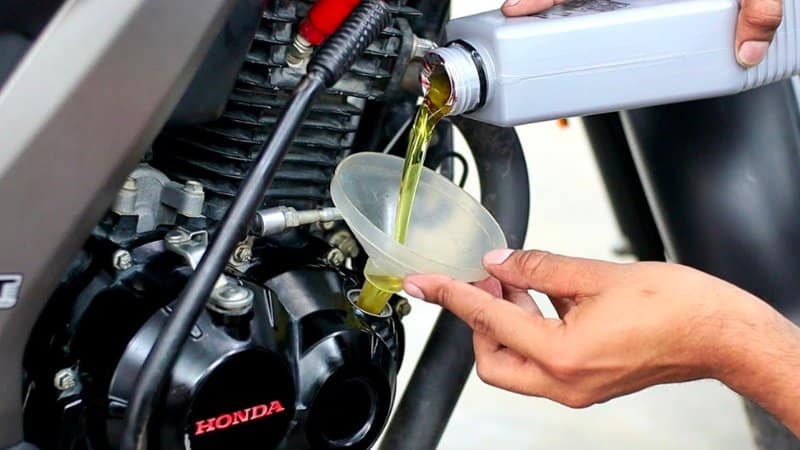 Best 10W40 Fully Synthetic Motorcycle Oil
I have used these oils in my motorcycle and collected feedback from many ASE-certified mechanics before preparing the list.
Here are the most reliable 10W40 full synthetic oils for the 4-strokes engine-
1. Castrol Go 10W40 4T Synthetic Oil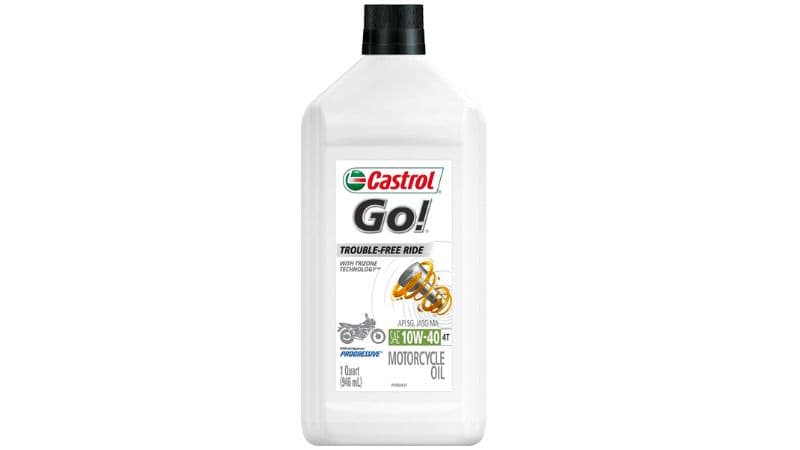 I have used Castrol Go 10W40 synthetic oil in my Kawasaki ZX10R and am totally satisfied with the performance.
After filling Castrol Go full synthetic oil, I experienced smooth gear shifting and improved engine performance and fuel economy.
It is formulated with Trizone Technology that protects the three critical zones: engine, clutch, and gearbox.
It provides superior engine wear protection and high film strength for high-revving motorcycle engines like Kawasaki ZX10R and BMW 1200S.
Castrol full synthetic oil uses specialized additives to help prevent ring-sticking and the build-up of harmful deposits.
Castrol Go is the best 10W40 motorcycle oil that offers great protection against wear and lasts over 10000 miles.
Pros
It offers great engine performance.
It protects your engine from wear and thermal breakdown.
Its specialized additives prevent ring-sticking and harmful deposit build-up.
Great shifting is quite smoother.
Affordable.
Cons
2. Mobil 1 Racing 4T Synthetic Engine Oil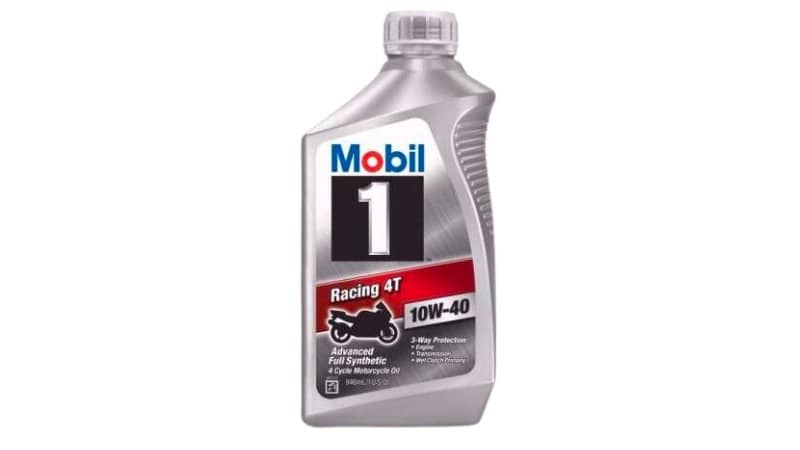 Mobil is one of the leading brands in the engine oil industry, and its Racing 4T synthetic oil is extremely popular among the bikers community.
Mobile 1 Racing 4T advanced synthetic oil is specifically designed for on-road high-performance sports motorcycles.
Moreover, it can also be used in off-road dirt bikes and cruiser motorcycles where a 10W40 grade is specified.
It offers better lubrication at higher speeds and keeps the engine cool and running with high power output.
Mobil 1 Racing 4T is the best oil for your motorcycle if you go on long rides or participate in short races.
Pros
It is formulated for high-speed racing.
It offers high protection against wear.
It has high heat dissipation properties.
It uses specialized additives to offer superior engine and transmission protection.
Cons
3. Kawasaki 4T Synthetic Motorcycle Oil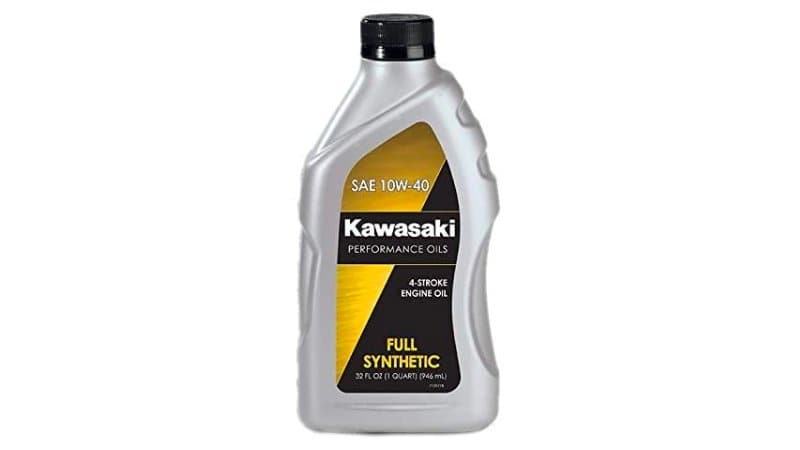 Kawasaki 10W40 full synthetic oil offers ultimate protection and great performance in extremely cold weather.
Although it's expensive but a trustworthy choice for Kawasaki motorcycles, it's recommended to go with the same brand.
It provides improved engine cleanliness, reduced oil volatility, and ultimate thermal and oxidation stability.
Pros
Excellent performance in cold weather.
It offers great thermal and oxidation stability.
A trustworthy choice for Kawasaki motorcycles.
Better heat dissipation.
Cons
4. Motul 7100 4T Synthetic Motorcycle Oil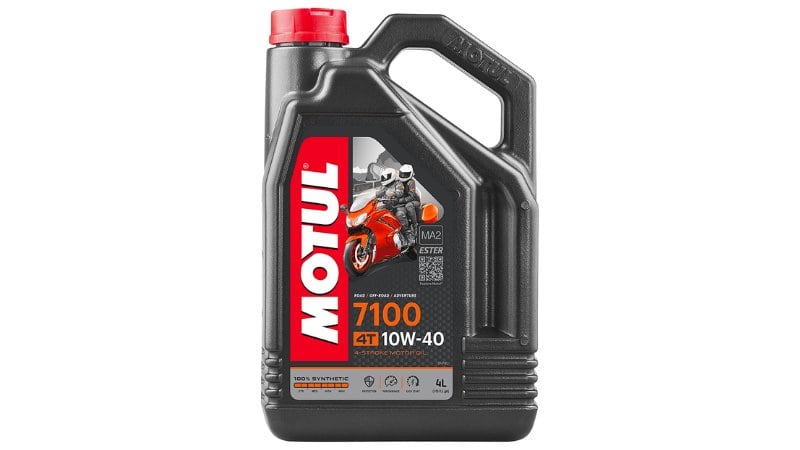 Motul is an old lubricant brand that has gained popularity and trust globally. The company was founded in New York in 1853.
Since then, they've provided engine oil and other lubricants for the automobile industry. The Motul 7100 4T is a popular choice for many motorcycle mechanics.
This engine oil suits all four-stroke motorcycles that need 10W40 oil grade. It offers ultimate protection against wear and prevents overheating.
If your motorcycle manufacturer recommends 10W40 grade fully synthetic oil, Motul 7100 4T is a value-for-money choice.
Pros
Better cold start response.
Easy and smooth gear shifting.
It's a 100% synthetic formula.
It meets API SL/SH/SG and JASO MA standards.
Cons
It should be changed after 3200-3500 miles.
5. Liqui Moly 4T Synthetic Motorcycle Oil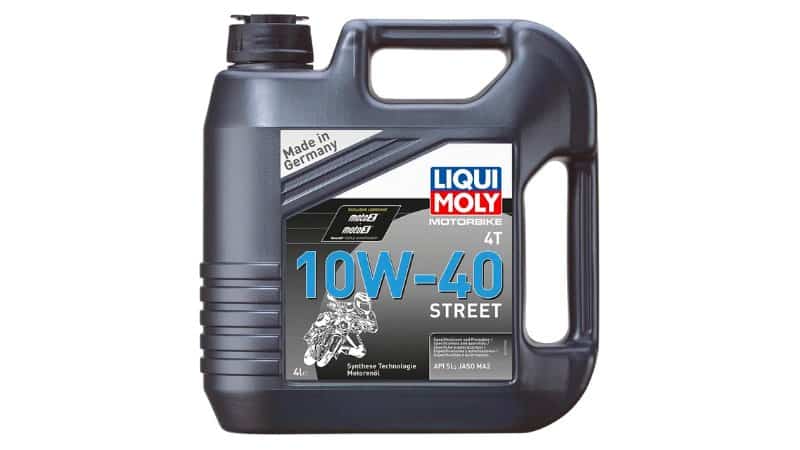 You must use synthetic oil to participate in a motorcycle racing competition. Liqui Moly 4T is a fully synthetic oil with a high flash point and better heat dissipation capacity.
I have received much positive feedback from many riders about Liqui Moly. It ensures maximum performance and protection in all operating conditions.
This Made in Germany product offers excellent engine cleanliness, outstanding lubrication, and minimal wear to moving components.
Pros
Excellent lubrication property.
Smoother gear shifting.
Increased fuel economy.
Fully Synthetic formula.
No engine overheating problem.
Cons
6. Motul 300V 4T Factory Line Synthetic Oil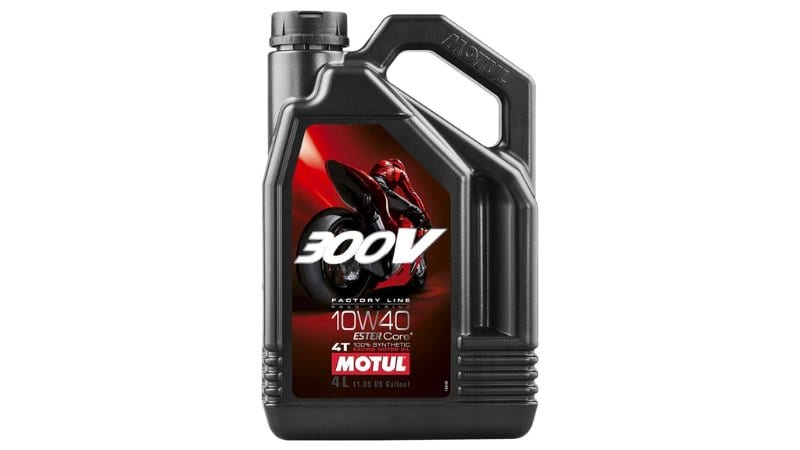 While doing my research, many riders and mechanics recommended another Motul oil that offers better engine performance and heat dissipation.
Motul 300V 4T is formulated on ESTERCore Technology that ensures improved performance, reliability, compatibility, excellent thermal stability, and superior protection against fluid degradation.
This is achieved through a unique combination of different Esters, mPAOs, Alkylated Naphthalene (AN), and Group III base stocks in varying proportions depending on the required viscosity.
Pros
100% Synthetic formula.
It offers great thermal stability.
Low oil consumption.
Great engine cleanliness.
Cons
7. Maxima Pro Plus+ Synthetic Motorcycle Oil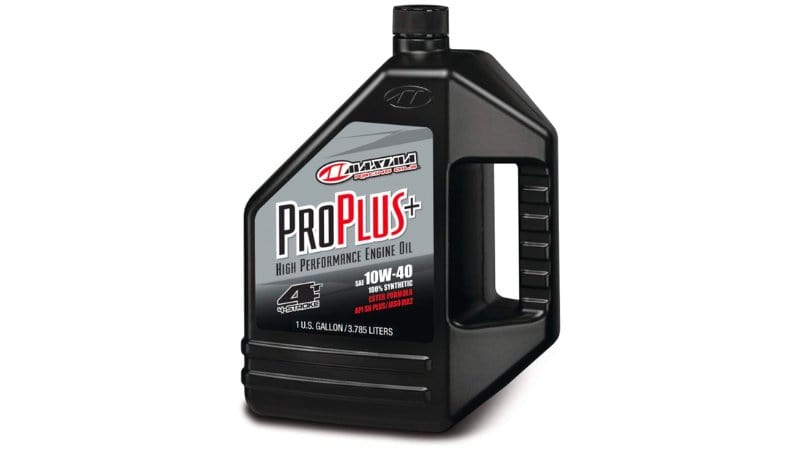 Maxima Pro Plus+ is another 100% synthetic oil formulated on ESTERCore technology that works best with four-stroke engines.
Its balanced anti-wear and anti-scuff additives minimize engine deposits while offering ultimate protection to the engine, gearbox, and clutch components.
Pros
A budget-friendly option.
It offers great protection against wear.
It exceeds JASO MA requirements.
Easy cold start and improved fuel economy.
Cons
Some people reported hard shifting.
8. Quicksilver 10W40 Synthetic Oil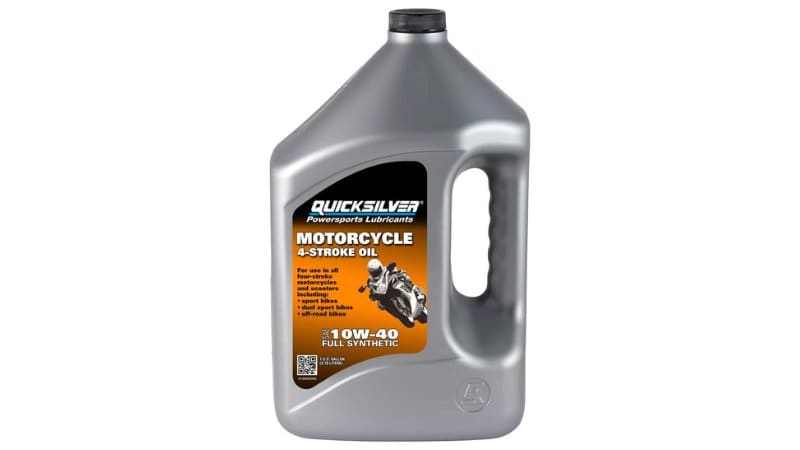 Quicksilver 10W40 Synthetic Oil features a high-quality full synthetic formula that performs well in motorcycle engines.
Its advanced additives ensure excellent film strength, which resists shear and oxidation.
Quicksilver 10W40 Synthetic Oil is engineered to provide easy starting and instant cold flow engine protection, even in low temperatures.
It is specifically designed to address the challenges associated with cold weather conditions, ensuring a better cold start.
Pros
Fully synthetic formula.
Easy cold start.
Smoother clutch and gear shifting.
Perform well at high temperatures.
Cons
9. Valvoline 10W40 Synthetic Motorcycle Oil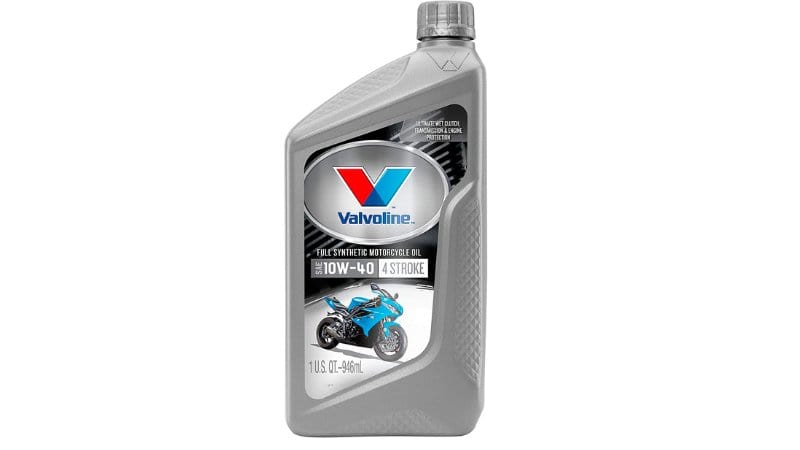 I'm sure you're well aware of the popularity of Valvoline in the lubricants industry. It's one of the oldest and most globally popular brands that provide a wide range of engine oil for automobiles.
This Valvoline full synthetic oil is formulated for high-performance four-stroke motorcycles. It's advanced additives and anti-friction formula maximize the engine performance and minimizes wear.
I have used Valvoline 15W50 synthetic oil on my Royal Enfield Classic 350 and noticed increased power and acceleration.
So, I reached over 20 motorcycle mechanics, and they recommended Valvoline 10W40 for Kawasaki, Honda, and Suzuki motorcycles.
I also checked the customer's feedback on Amazon, and one user commented, "Valvoline is one of the oldest brands still making quality oil. I've used it for years in all my vehicles. It's well known in the raceway and motorcycle circuits. At this price, you can't go wrong."
There are over hundreds of positive feedback from real customers. So, it's a good and value-for-money product.
Pros
It offers smooth gear shifting.
100% Synthetic formula.
It reduces friction and improves engine performance.
It protects against harmful deposits and sludge.
Cons
10. Speedol Pro GP Synthetic Motorcycle Oil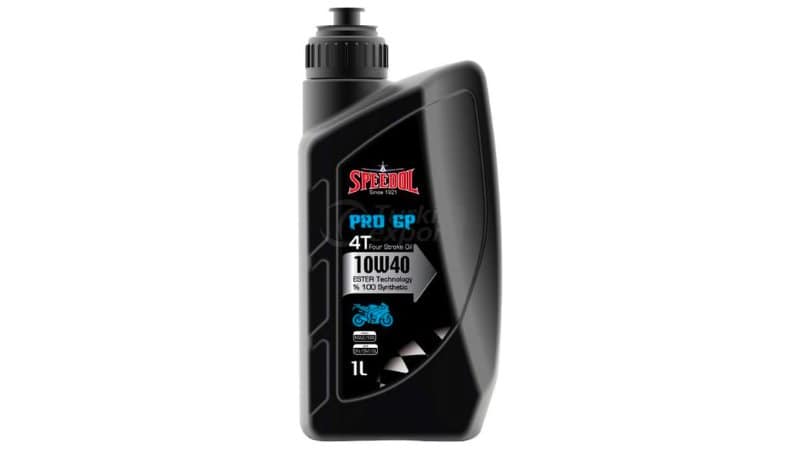 If you're looking for a budget-friendly synthetic oil for motorcycles and ATVs, Speedol Pro GP is the right choice.
Speedol Pro GP 10W40 Full Synthetic Motorcycle Oil is a high-performance lubricant specifically designed for 4-stroke high-performance track/race engines.
It utilizes advanced ester technology to provide exceptional protection and performance for your motorcycle.
This synthetic oil is formulated to extend the engine's service life, offering excellent protection against wear and ensuring smooth gear shifting.
Pros
Synthetic 4-stroke motorcycle lubricant with ester technology.
Designed for use in high-performance track/race engines.
It provides extended engine service life and excellent protection.
Ensures smooth gear shifting and supports fuel economy.
Performs well under difficult conditions.
Cons
What Does 10W40 Mean?
You must have heard about oil viscosity. It is a measure of fluid's resistance to flow. Every oil changes its viscosity according to temperature.
The Society of Automotive Engineers (SAE) standardized oil viscosity in various grades to make things easy for the automobile industry.
SAE-10W40 is a popular engine oil grade that Kawasaki and many other motorcycle brands use. Here 10W indicates the viscosity of oil in winter, while 40 indicates the oil's viscosity at 100°C.
Every engine is designed for different operating conditions. So, always use recommended oil grade in your motorcycle.
How To Change Engine Oil On a Motorcycle?
It's very easy to change engine oil on motorcycles. You can save huge money by changing it at home.
Start the engine for five minutes and put a pan below the drain plug. Untighten the drain plug with the spanner and wait until all oil is drained properly.
After that, clean/replace the oil filter, tighten the drain plug nut, and refill the fresh oil with the help of a funnel.
Now, your motorcycle is ready to go on rides. But don't forget to clean your spark plug after every oil change to get the best engine performance and acceleration.
I have written a detailed guide on oil change frequency on various motorcycle brands. Here are some other useful guides related to motorcycle engine oil-
Conclusion
A fully synthetic oil last between 8000 to 10000 miles, but motorcycle manufacturers recommend changing it under 6000 to ensure maximum protection against wear.
SAE-10W40 full synthetic oil is used for Kawasaki, Honda, Suzuki, BMW, and other racing motorcycles. Read your motorcycle's owner manual and always use recommended oil grade.