10 Best Motorcycles For Old Riders In 2023
I'll start this article with a quote- "Four wheels move the body, but two wheels move the soul."
It doesn't matter whether you are 50, 60, or 70; you can experience the thrill of two-wheel rides. But choosing the right motorcycle for your riding skills, age, height, and physical strength is very important.
In this guide, I'll provide details of the ten best motorcycles for old-age riders. So, if you're above 50 and looking for a comfortable and easy-to-ride motorcycle, this article is only for you.
This article has useful information that a senior rider should know while choosing a perfect motorcycle for touring and adventure.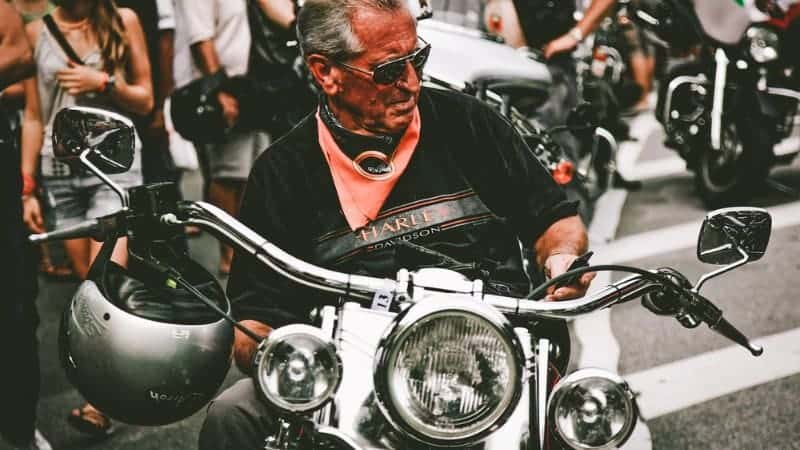 Top 10 Motorcycles for Old Riders
| Motorcycle | Engine Size | Weight | Height |
| --- | --- | --- | --- |
| Honda Rebel 300 | 125cc | 101 kg | 762 mm |
| Harley Davidson Pan America | 1250cc | 230 kg | 812 mm |
| Royal Enfield Himalayan | 411cc | 199 kg | 800 mm |
| Harley-Davidson Street Glide | 1868cc | 375 kg | 690 mm |
| Suzuki Boulevard S40 | 652cc | 172 kg | 700 mm |
| Honda CMX500 Rebel | 471cc | 185 kg | 691 mm |
| Honda Goldwing | 1833cc | 390 kg | 745 mm |
| Triumph Bonneville T100 | 900cc | 228 kg | 790 mm |
| Aprilia RS250 | 249cc | 140 kg | 770 mm |
| BMW K1600GTL | 1649cc | 358 kg | 750 mm |
What to Look for While Buying Motorcycles for Old People?
I don't know whether you're looking for a motorcycle for yourself or your grandfather, but these factors must be considered when choosing motorcycles for older.
1. Motorcycle Type
There are mainly three types of motorcycles- Sport Bikes, Dirt Bikes, and Cruisers. You should understand your need and decide what type of bike is suitable.
Sport bikes are designed for high-speed racing (can reach over 250 mph), while dirt bikes are suitable for off-road adventures.
But senior riders prefer cruiser motorcycles over these two. The cruiser motorcycles give excellent comfort on long rides.
Although the top speed of cruiser motorcycles is not insanely high (like 200 mph or 250 mph), they can easily reach 80 to 100 mph.
Cruiser motorcycles are best for old riders because they offer great comfort and better sitting posture.
The only downside of cruiser motorcycles is they're heavyweight and bulky (look at Harley Davidson motorcycles).
Once you decide what type of motorcycle you need, move ahead and do further research about top motorcycles in the category.
2. Engine Size
The next important factor when choosing a motorcycle is engine size. A beginner will face many difficulties handling over 650cc sports bikes because it generates high power.
So, if you're a beginner to motorcycle riding, always start with lower-size engines like 125cc or 250cc. Upgrade to larger engine-size motorcycles once you gain confidence and improve your riding skills.
3. Comfort and Ergonomics
As riders get older, comfort becomes increasingly important. Look for motorcycles with an upright seating position, comfortable seats, and ergonomic handlebars that allow for a relaxed riding posture.
4. Low Seat Height
Opt for motorcycles with a low seat height, making it easier for older riders to touch the ground with their feet. This provides better stability at stops and can boost confidence while maneuvering the bike.
5. Lightweight and Maneuverability
Smaller and lighter motorcycles are generally easier to handle, especially at low speeds or in tight spaces.
Consider bikes with good maneuverability to make riding more enjoyable without physical stress on the arm and back.
6. Smooth Power Delivery
Motorcycles with smooth power delivery and predictable throttle response are ideal for older riders.
This ensures better control and reduces the chances of sudden surges or jerky movements that can catch riders off guard.
7. Safety Features
Safety should be a top priority for riders of all ages. Consider motorcycles equipped with advanced safety features such as anti-lock braking systems (ABS), traction control, and stability control. These features can enhance stability and help prevent accidents.
8. Body Physique
Height and physical strength are other important factors to consider when choosing a motorcycle for an old rider.
Handling an extremely heavyweight motorcycle for riders over 70 would be difficult. Also, if the rider's legs are short, buy minibikes like Honda Grom and Navi.
9. Budget
Budget is an important factor to consider when buying anything. Motorcycles come in a wide range of prices, and it's essential to find one that fits within your financial means.
Determine how much you will spend and explore options that offer the best value for your budget.
Best Motorcycles for a 70 Year Old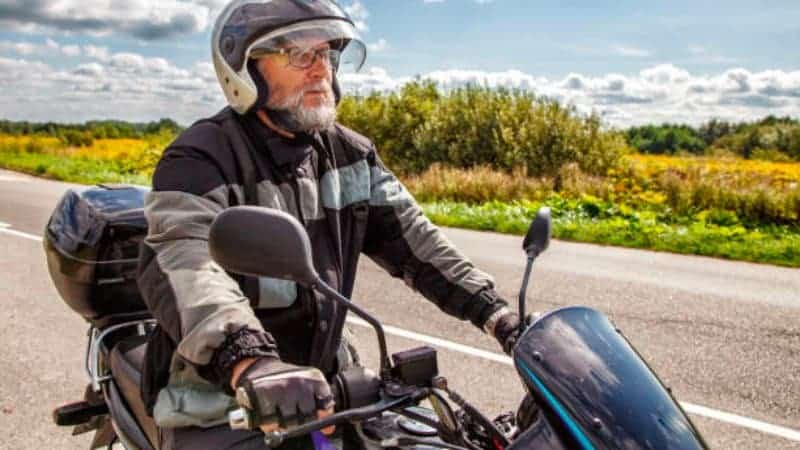 These are the top 3 favorite choices of older riders over 70 years of age:
1. Honda Rebel 300
The Honda Rebel 300 is a lightweight cruiser that offers a comfortable and approachable riding experience. Its low seat height makes it easy for riders to plant their feet on the ground.
The Rebel 300 has smooth power delivery, making it suitable for riders of all skill levels. It has a minimalist design with a modern touch, and its fuel-efficient engine makes it ideal for short and longer journeys.
The Rebel 300's nimble handling and compact size make it a great choice for older riders looking for a stylish, user-friendly motorcycle.
2. Royal Enfield Himalayan
The Royal Enfield Himalayan is an adventure touring motorcycle that combines versatility and ruggedness. Its upright position provides excellent visibility and comfort on long rides.
The Himalayan has a 411cc engine and long-travel suspension, allowing it to handle various terrains easily.
Himalayan's accessible seat height, relaxed ergonomics, and off-road capabilities make it a perfect choice for seniors who enjoy both on and off-road adventures.
3. Suzuki Boulevard S40
The Suzuki Boulevard S40 is a lightweight cruiser offering a smooth, relaxed riding experience. It features a low seat height and a manageable weight, making it easy to handle for riders of all ages.
The S40 is powered by a single-cylinder engine, providing sufficient power for city commuting and casual cruising. It has a classic cruiser styling, comfortable seating position, and user-friendly controls.
The S40's simplicity, reliability, and affordable price point make it an attractive choice for older riders seeking a laid-back cruising experience.
Best Motorcycle for a 60 Year Old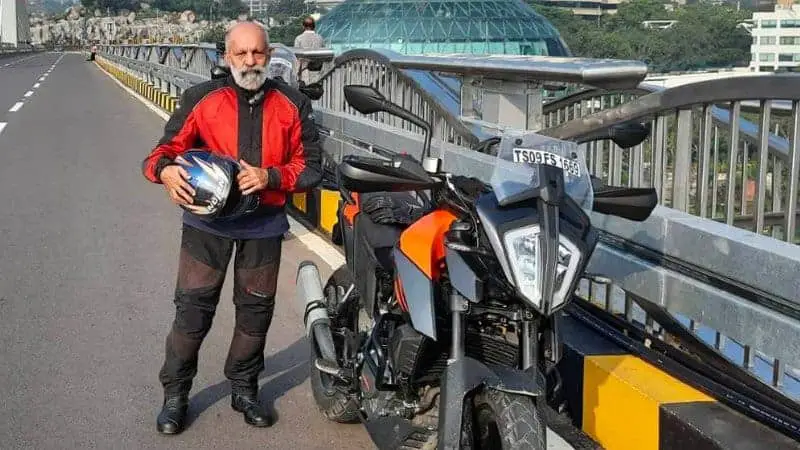 If your age is between 55 and to 6-years, these motorcycles are best for your need:
1. Harley Davidson Street Glide
The Harley Davidson Street Glide is a touring motorcycle that offers comfort, power, and a classic Harley Davidson style.
It has a powerful V-twin engine, delivering ample torque for highway cruising. It has a relaxed riding position with a comfortable seat and spacious ergonomics, making it well-suited for riders seeking long-distance comfort.
The Street Glide also boasts modern technology and convenience features, including advanced infotainment systems and ample storage capacity.
This motorcycle is an excellent choice for older riders who value comfort, power, and the iconic Harley Davidson experience.
2. Harley Davidson Street 750
The Harley Davidson Street 750 is a mid-size cruiser with a blend of style, agility, and affordability. It features a sleek, minimalist, blacked-out design with contemporary appeal.
The Street 750 is powered by a liquid-cooled V-twin engine, providing smooth power delivery and manageable performance for urban commuting and weekend rides.
It has a low seat height and a lightweight, making it easy to maneuver in city traffic. The Street 750 offers a comfortable riding position and user-friendly controls, making it an attractive option for older riders seeking a stylish cruiser.
Best Motorcycles for a 50 Year Old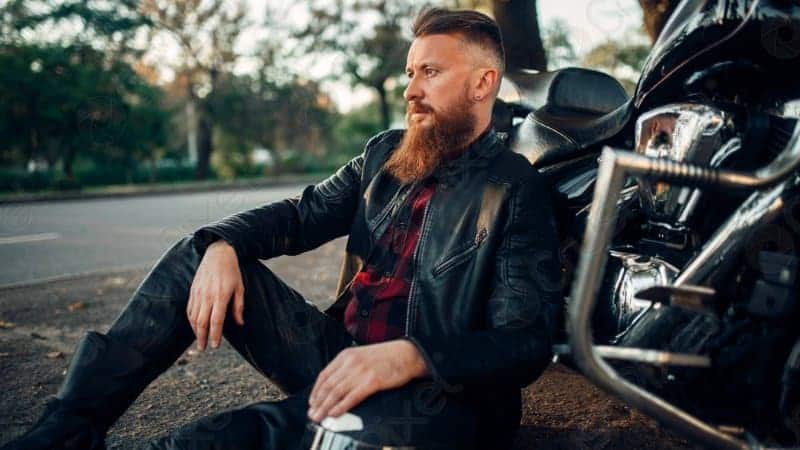 A 50-year person would be quite young and can handle heavyweight motorcycles. Here are the top bikes for 50 years:
1. Honda Goldwing
Honda Goldwing is a renowned touring motorcycle with exceptional comfort, luxury, and long-distance touring capabilities.
It features a powerful and smooth six-cylinder engine and a comfortable riding position, making it an ideal choice for long journeys and touring adventures.
The Goldwing's reliability, comfort, and advanced features make it a popular option for riders who value comfort, technology, and a premium touring experience.
2. BMW K1600GTL
BMW K1600GTL is a luxury touring motorcycle known for its performance, comfort, and advanced technology.
It is powered by a smooth and powerful inline-six engine, delivering strong acceleration and effortless highway cruising.
The K1600GTL features a comfortable riding position, ergonomic seating, and a range of adjustable features such as windscreen, seat, and handlebars to suit individual preferences.
It has advanced features like an integrated navigation system, heated seats and grips, adaptive headlights, and electronic suspension adjustment.
Conclusion
Finding the best motorcycles for older riders involves considering various factors and prioritizing comfort, safety, and ease of use. I have asked over a hundred senior riders who prefer two-wheel, and Honda Goldwing is their favorite.
Before purchasing, I would advise you to take a short test drive of the above-listed motorcycles. Visit the nearest motorcycle dealer in your city.