What Year Goldwing To Avoid And Why? -(Explained)
If you plan to buy a touring bike, nothing can beat the Honda Goldwing's comfort, performance, and reliability. Honda has improved it a lot by adopting new technologies and design changes.
Most Goldwing owners have a great experience, but not every generation was pleasant. For instance, the GL1200 produced between 1984 and 1985 had ignition and rear wheel problems.
So, you must know what year Goldwing is to avoid while purchasing one. But how do we know which year Goldwing was problematic?
I have gone through several websites and motorcycle forums and talked to several Goldwing owners to collect a list of problems they faced.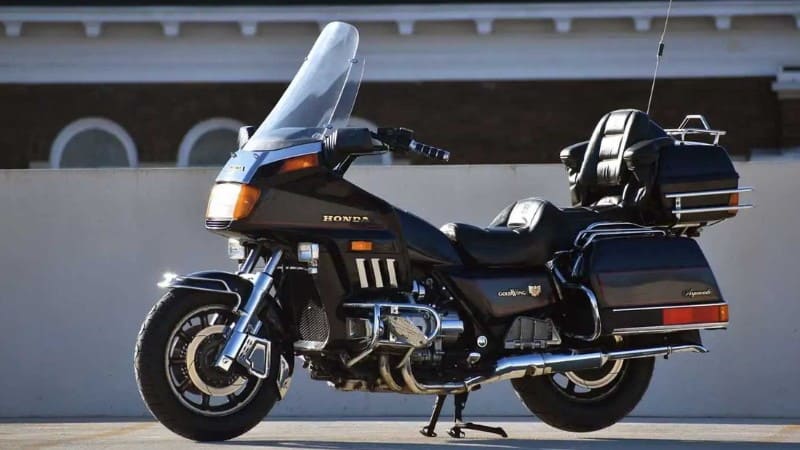 Based on my research, I found that the following year Goldwing was problematic–
1978 Gold Wing
1979 Gold Wing
1984 Gold Wing
1985 Gold Wing
2001 Gold Wing
2002 Gold Wing
2003 Gold Wing
2004 Gold Wing
What Year Goldwing To Avoid And Why?
The Honda Gold Wing, often regarded as the pinnacle of touring motorcycles, has been the trusted companion of long-distance riders since its inception.
However, some models of the GL1200 series launched between 1984 and 1985 have ignition and gear-shifting problems.
So, if you're considering buying the GL1200 series Goldwing, then 1986 and 1987 are the best choice. I asked about the personal experiences of 1986 and 1987 Goldwing owners, and they were satisfied.
1978 And 1979 (GL1000) Honda Goldwing Problems:
Despite their classic status, the 1978 and 1979 Honda Goldwing GL1000 models are known for several issues.
Significant changes during these years, including a redesigned seat and tank, revised carburetors, and a new exhaust system, led to mixed reviews due to comfort and maintenance concerns.
The elimination of the kick-start feature posed potential stranded scenarios, while the bike's hefty 265 kg dry weight made low-speed maneuvers a challenge.
1984 And 1985 (GL1200) Honda Goldwing Problems:
The 1984 and 1985 Honda Goldwing GL1200 models, part of the line's ambitious redesign, unfortunately, came with their own set of troubles.
Here's a brief overview of the issues that marred these particular years:
Ignition Troubles: These models faced significant ignition issues, where the bikes, at times, refused to start. This problem was inconvenient and left riders stranded and frustrated, requiring potentially costly repairs.
Rear Wheel Complications: Manufacturing defects led to problems with the rear wheel, affecting ride quality and potentially posing safety risks. These issues often necessitated complete wheel replacements, an unexpected expense for owners.
Recall Challenges: In 1984, a recall was issued due to mismatches between VINs and their brackets, causing confusion and concern among owners. Some were even forced to seek repairs independently, leading to additional inconvenience and costs.
1994 And 1995 (GL1500) Honda Goldwing Problems:
The GL1200 series Goldwing launched between 1994 and 1995 also had many problems. Here are some problems associated with the GL1500 during these years:
Reverse Gear Issues: Some owners reported problems with the reverse gear, which was one of the standout features of the GL1500. Issues included the reverse not engaging properly, which could be particularly troublesome during slow maneuvering in tight spaces.
Alternator Failures: There were instances of failures leading to the bike's inability to charge the battery while running. This issue could cause the motorcycle to stall or not start, requiring a costly alternator replacement.
Overheating Problems: Some models suffered overheating due to inadequate airflow around the engine and radiator. This problem was especially prevalent during low-speed rides or traffic.
Suspension Concerns: Riders noted that the suspension, especially the rear, didn't always provide the expected level of comfort, leading to a rougher ride on uneven surfaces.
2001 To 2004 (GL1800) Honda Goldwing Problems:
The 2001 to 2004 Honda Goldwing GL1800 models marked the introduction of a new era for the Goldwing series with improved power, handling, and comfort. However, this period was not without its challenges.
Here are some common problems associated with 2001 to 2004 (GL1800) Goldwing:
Frame Cracking and Welding Issues: Perhaps the most alarming problem was the tendency for the motorcycle's frame to crack, particularly around the rear suspension area. Many people complained about the frame cracking issue on the 2003 model.
Transmission Troubles: These models were notorious for problems with their transmissions, specifically involving the bike "ghost shifting" out of 5th gear. Riders reported that the bike would spontaneously shift, causing a sudden loss of power and posing a serious safety risk.
Intercom System Malfunctions: The onboard intercom system, a feature much appreciated in the touring community, faced functionality issues. Users reported everything from poor sound quality to complete system failures, often linked to electronic glitches within the system.
Which Goldwing Years Are Safe To Buy?
The Honda Goldwing has had many reliable years throughout its storied history, notwithstanding the issues in certain models. For those considering a purchase, several years stand out for their dependability, performance, and rider satisfaction. Here's a list of Goldwing models that have generally been well-received and are considered safer buys:
1980-1983 Gold Wing (GL1100): These models are known for their robustness and reliability. They marked the introduction of the first full-fairing motorcycle from a major manufacturer, setting the standard for touring motorcycles.
1986-1987 Gold Wing (GL1200): The GL1200s, particularly in the years 1986 and 1987, were an improvement over their predecessors, with enhanced performance and fewer of the issues that plagued the earlier '84 and '85 models.
1997-2000 Gold Wing (GL1500): These models continued to build on the Goldwing's legacy of providing luxurious, reliable long-distance touring capabilities. Notably, the 1997 and newer models are preferable for their updates and refinements over the earlier GL1500s.
2006, 2013, 2018 Gold Wing (GL1800): The 2006 model year saw improvements in comfort and performance, the 2013 model is known for its overall reliability and feature richness, and the 2018 overhaul brought the Goldwing up to modern touring standards with a complete redesign and technological upgrades.
Recent Models (Post-2001 with exceptions): Most Goldwing models post-2001 are reliable, except for the 2001-2004 models, due to previously discussed issues. Honda has consistently worked to improve the Goldwing, and more recent models benefit from years of refinement.
When purchasing a used motorcycle, independent of the year, it's crucial to consider the bike's maintenance history, mileage, and overall condition. A well-maintained Goldwing from a "safe" year can provide a far superior experience compared to a neglected motorcycle from the best production years.