Best Honda Grom Exhaust For Power – (Upgrade Now!)
If you're still using your Grom stock exhaust system, you're missing the true riding experience! You'll never install the stock once you upgrade your Honda Grom exhaust.
Motorcycle manufacturers try to improve fuel economy and are bound to emission norms, so they underclock the engine power and performance.
Upgrading to the aftermarket exhaust is a popular modification for Honda Grom to increase the power and its top speed.
But, finding an aftermarket exhaust that gives better performance and cool sound is difficult as learning a new riding skill.
So, to make your task easy, I have shortlisted the top five Honda Grom exhaust that boosts power and engine performance, along with louder sound.
Best Honda Grom Exhaust in 2023
I have a 2022 Honda Grom and use the Akrapovic Slip-On exhaust I purchased from RevZilla. I love its deep and high resonance Akrapovic sound.
After replacing my stock exhaust system with this one, I was flabbergasted by engine performance and sound. I crossed 62 mph for the first time after installing it on my Grom.
So, Akrapovic Slip-on is definitely a great aftermarket exhaust for Honda Grom. If you have an older Grom model, choose a compatible exhaust.
I have listed my top five aftermarket exhaust picks for Honda Grom (all generation) so that you can save time and check out these products.
Read on to learn about the features and benefits of these aftermarket exhaust systems.
1. Akrapovic Slip-On Exhaust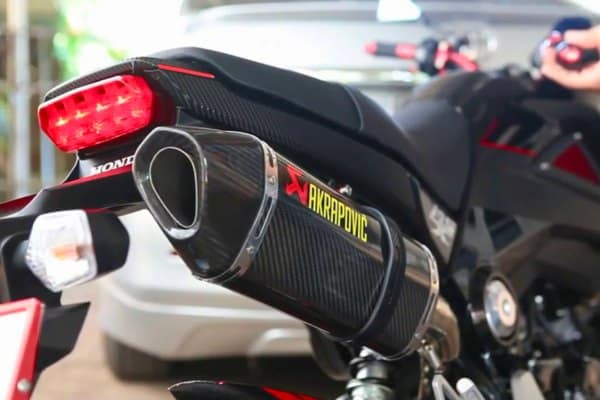 Akrapovic is a well-established brand that manufactures high-quality exhaust systems for motorcycles. It's a Slip-On model compatible with the latest 2022-2023 Honda Grom.
As I told you earlier, I'm using this exhaust on my 2022 Honda Grom and truly love its deep resonance sound and performance.
The Akrapovic Slip-On exhaust system is made from carbon fiber, which is 36% lighter than the stock exhaust.
The CNC machined muffler inlet cap fits with the exhaust manifold, preventing the gas leakage that causes backfiring issues.
It not only enhances the beauty of your Grom but also increases its power and performance. With my stock exhaust, I used to rev 58 to 60 miles per hour, but after upgrading Akrapovic Slip-on, I reached over 62 mph. (top speed depends on many external factors, so it may vary in your case).
According to many riders, Akrapovic Slip-on can improve the engine power from 9.0 horsepower to 9.3 horsepower. Leave this power and performance aside; I'm mesmerized by its deep resonant sound.
Pros
Easy to install
Deep and high resonance sound
Increases horsepower from 9.0 to 9.3
36% lighter than stock exhaust
No backfire
Great build-quality
Cons
It doesn't fit older Grom models.
Price
2. Yoshimura RS-2 Race Exhaust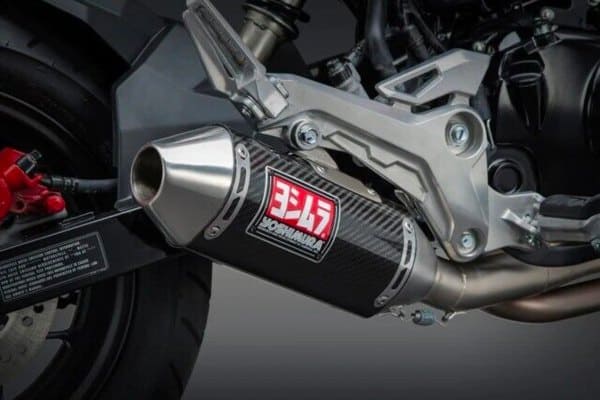 Yoshimura RS-2 is the favorite exhaust for Grom racers. If you participate in the Honda Grom racing competition, this exhaust will give you a slight edge to win the competition.
I really had to make a tough decision between Akrapovic Slip-on and Yoshimura RS-2. Because brands are extremely popular, they sound louder and boost your horsepower and top speed.
They are made from a lightweight carbon fiber material, and the price of both exhaust systems is almost similar.
I chose Akrapovic Slip-on because of its color. However, If I had to choose another exhaust system for my Honda Grom, I would have gone with Yoshimura RS-2 Race.
So, if you like the Yoshimura RS-2 Race exhaust design and color, go with this. It's one of the best Honda Grom exhaust for power and performance boost.
Pros
Increases Grom performance
Improved horsepower and acceleration
Diamond-shaped carbon fiber sleeve
Produces deep and louder sound
Durable
Cons
Loop pipe block oil drain plug
Price
3. FMF Factory 4.1 RCT Exhaust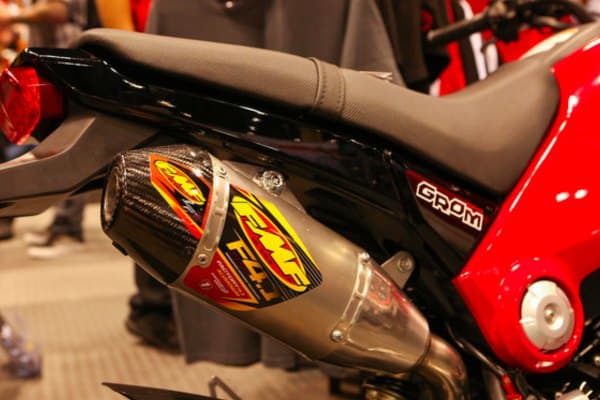 If you own an older Honda Grom and looking to install an aftermarket exhaust, FMF Factory 4.1 RCT is a perfect choice.
FMF is a USA-based exhaust manufacturer incorporating the latest Resonance Chamber Technology internally and externally to boost sound.
It creates a high resonance sound that attracts the audience's attention on a street. Their research and development team has achieved a shorter overall length, less susceptible to crash damage.
FMF Factory is my third choice for Honda Grom aftermarket exhaust lis. However, it's the perfect exhaust for 2014-2015 Grom to increase power and performance.
Pros
Lightweight and easy to install
Improves horsepower and performance
It comes with a spark arrestor
Fits with Honda Grom 2014-2015
The exhaust sound is louder
100% made in the USA
Cons
It only fits with older Grom
4. Hindle EVO Megaphone Exhaust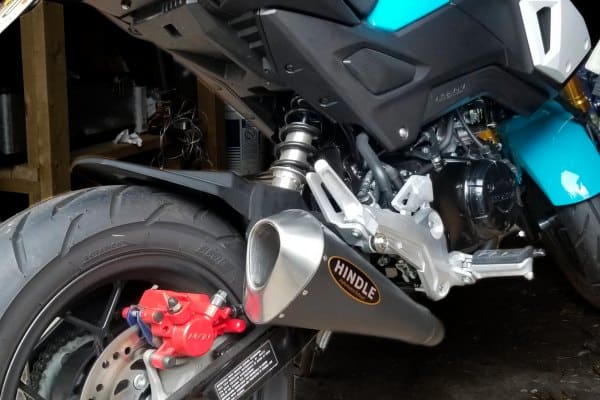 Many Grom owners in my motorcycle club use Hindle EVO exhaust. The deep, resonating sound adds a touch of excitement to every twist of the throttle.
The full stainless steel headers and mid-pipes not only provide excellent durability but also contribute to the overall performance enhancement of the Grom.
The enhanced airflow and optimized exhaust flow translate into better throttle response, increased torque, and improved power delivery.
Overall, Hindle EVO Megaphone is a great aftermarket exhaust modification for Honda Grom. You can visit the nearest automotive store or order online to test its sound and performance.
Pros
Louder metallic exhaust sound
Full stainless steel header and mid-pipes
Heavy-duty exhaust springs
Budget-friendly option
Cons
Stainless steel is heavier than carbon fiber
5. LeoVince LV-10 Exhaust
If you can't speed over $500 for Grom's exhaust modifications, then LeoVince LV-10 is the right choice. LV-10 is an easy-to-install slip-on exhaust that fits the 2017-2020 Honda Grom.
It's made from AISI 304 stainless steel that offers excellent durability and performance. AISI 304 is a tough material but heavier than carbon fiber.
LeoVince LV-10 costs half the price of the Akrapovic Slip-O, still offering lightweight and aerodynamic features.
So, if you want racing-style exhaust on your Grom, LeoVince LV-10 is the ultimate budget-friendly option.
Pros
The matte finish looks good
AISI 304 stainless steel material
High-quality TIG welding
Aerodynamic profile
Stainless steel mesh
Temperature resistant
Extremely budget-friendly
Cons
Round design instead of hexagonal
Stainless steel instead of carbon fiber
Conclusion
Grom owners prefer to upgrade their exhaust systems to increase power and performance. This also makes the sound louder and enhances the overall look. Aftermarket exhausts are lightweight and easy to install.
Choose the one made from lightweight carbon fiber that offers an aerodynamic profile. A hexagonal shape is good for leaning because it won't hit the ground.
I'm using Akrapovic Slip-On exhaust on my 2022 Grom because it boosts the overall performance and top speed, but I love the sound of the Yoshimura RS-2 Race.
These are made from lightweight carbon fiber material that reduces overall weight to increase top speed.