10 Best Pink Motorcycle Helmets For Women
Hi, my name is Rashmika, and I'm a motorcycle enthusiast. Like any other girl, my favorite color is pink. So, why don't I choose my favorite color while picking protective gear?
In this guide, I will review the best pink motorcycle helmets for women that provide ultimate protection and styling.
The pink helmet looks pretty attractive on the head. So, if you're also fed up with the traditional dull shed black color from head to toe, this guide will be interesting.
Are you in a hurry and looking for the best protection and ultimate comfort?… I recommend you go with AGV Pista GP RR Rossi Misano, which combines beautiful pink and white colors.
Not in a hurry? Continue reading this article…
Similar Guide: Do Motorcycle Helmet Expires?
10 Best Pink Motorcycle Helmets For Women
I personally use AGV Pista GP RR, and it provides great comfort. Moreover, I researched in-depth and prepared a list of the best motorcycle helmets in pink color.
1. AGV Pista GP RR Rossi Misano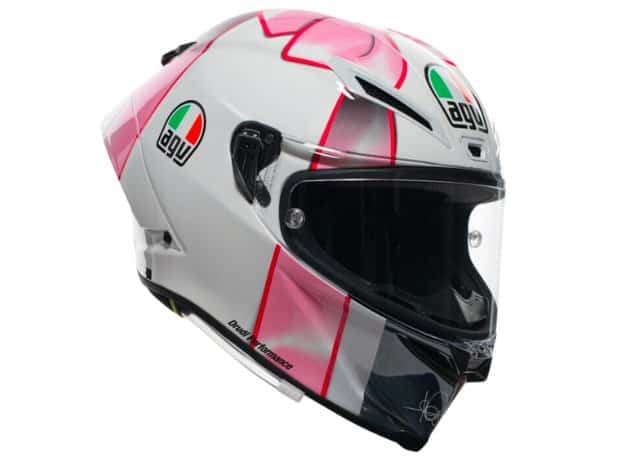 AGV is the world's most reliable helmet brand, offering various products for different needs. I'm using AGV Pista GP RR Rossi Misano 2021, which provides ultimate comfort on long rides.
It's an advanced ventilation system, and its aerodynamic design offers great stability at higher speeds. So, if you're an enthusiast women's rider, I would advise you to invest in a good helmet.
Related Guide: Are Motorcycle Helmet Size Universal?
2. 6D Youth ATR-2Y Fusion Helmet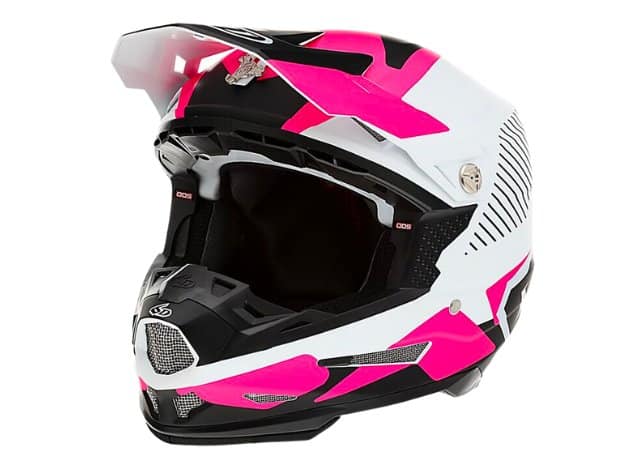 6D Youth ATR-2Y Fusion is a perfect combination of white, pink, and black to give an attractive look to your head. It's a very lightweight and comfortable motorcycle helmet with great ventilation.
If you love this design, please select the correct size for the perfect fit. The build quality is excellent and matches or exceeds DOT and ECE-2205 standards.
3. Typhoon TH158 Women's Helmet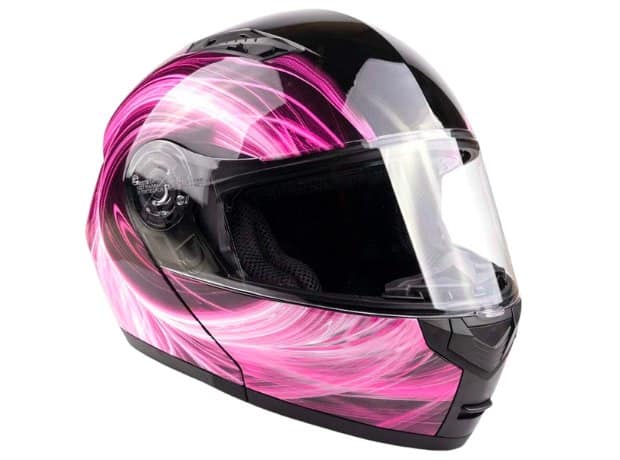 Typhoon TH158 is an affordable pink motorcycle helmet for women. The helmet meets the DOT standard (FMVSS218), ensuring that it has been tested and certified for safety by an independent test facility.
The easy-to-actuate button allows for quick and effortless flipping up of the helmet's front panel, making it easy to breathe without removing the helmet entirely.
Additionally, the helmet features a retractable tinted sun visor that can be adjusted to provide shade and protect your eyes from the sun's glare.
4. HJC RPHA 71 Mapos Helmet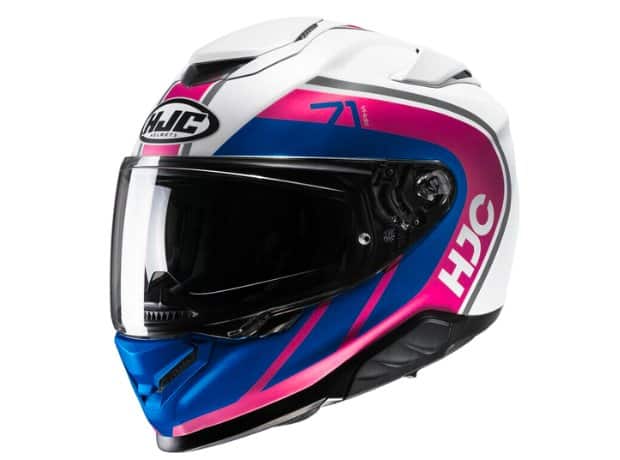 The HJC RPHA 71 Mapos Helmet is a high-quality motorcycle helmet offering style and protection. The helmet is DOT-approved, ensuring it meets the necessary safety standards for riders.
The aerodynamic design of the shell reduces air resistance and provides stability at high speeds, making it an excellent choice for riders who enjoy going on long, fast rides.
5. Motocross DOT-certified Helmet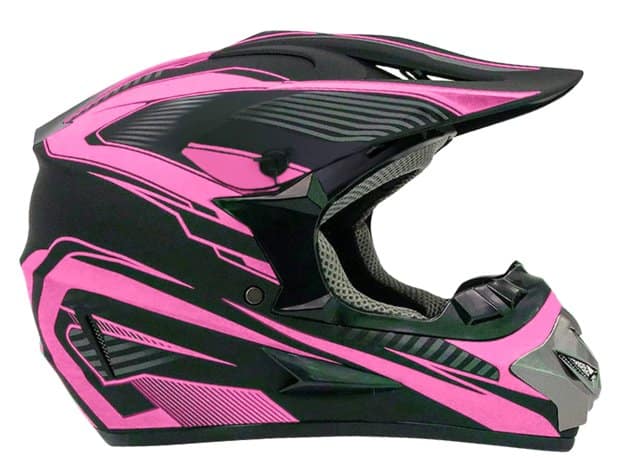 The Motocross DOT-certified Helmet is a great option for riders who prioritize safety and style.
This helmet meets or exceeds FMVSS-218, DOT, and ECE-2205 safety standards, providing riders with peace of mind that they are protected while throttling.
Additionally, each batch of helmets undergoes random quality checks, ensuring that the product you receive is of the highest quality.
The helmet comes in various sizes suitable for different head sizes, and the adjustable chin strap allows for a comfortable and secure fit.
6. AGV K1 Full-face Helmet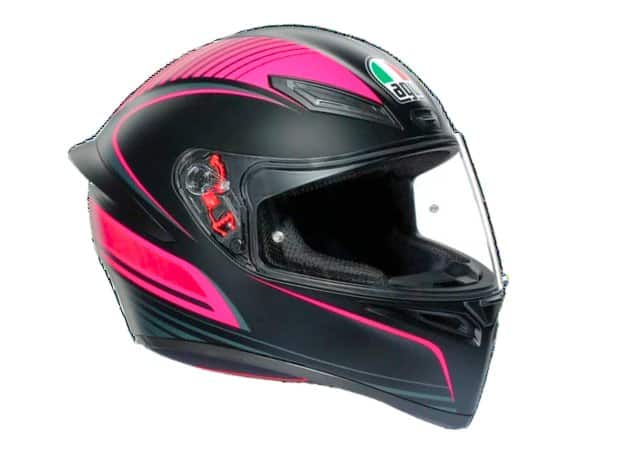 As an experienced rider, I know how important it is to have a quality helmet that provides safety, comfort, and convenience. The AGV K1 Full-face Helmet is an excellent choice for riders who prioritize these features.
One of the great features of this helmet is its Dry-Comfort fabric, which provides moisture-wicking and antibacterial properties. This helps to keep the rider dry and comfortable during long rides.
Additionally, the interiors are fully removable and washable, making it easy to maintain and keep the helmet fresh.
7. 1Storm Dual Visor Helmet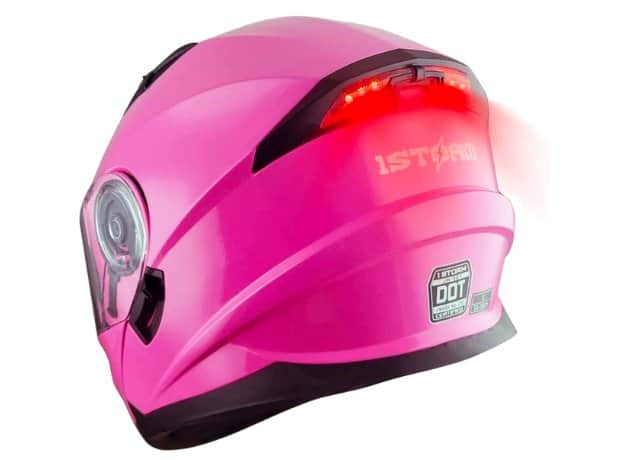 1Storm helmet has a modular/flip-up and dual-lens design, including an inner smoked lens and an outer clear shield. The clear shield provides excellent visibility, while the smoked lens can reduce glare and enhance visibility in bright sunlight.
The ultra-lightweight and durable aerodynamic thermoplastic alloy shell makes this helmet comfortable. The interior is also removable and washable, making it easy to keep your helmet clean and fresh.
The glossy UV protective finish looks great and protects your helmet from fading and damage from the sun's harmful rays.
This helmet is DOT-approved, which means it meets or exceeds all safety standards the Department of Transportation sets. So you can ride confidently, knowing you are wearing a helmet that keeps you safe.
8. Fox Racing V1 Leed Helmet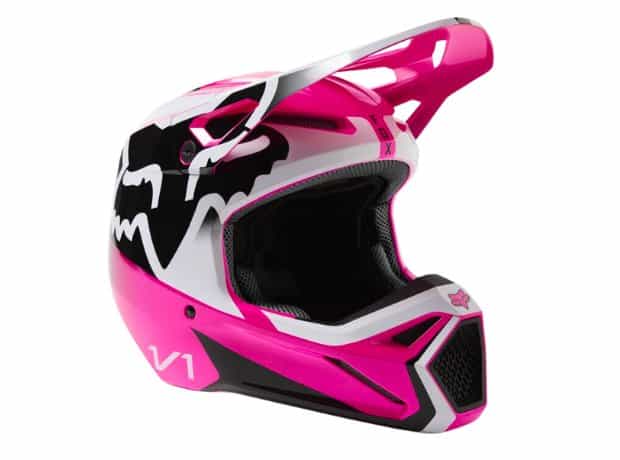 If you're a women rider who prioritizes safety and comfort on the road, the Fox Racing V1 Leed Helmet is a perfect choice. Its combination of pink, white, and black catches many eyes on the street signal.
It is designed with lightweight injection-molded polycarbonate and ABS shell construction. This helmet has been tested to meet US DOT and new EU ECE 22.06 and DOT certifications.
So, buy Fox Racing V1 Leed pink helmet and ride with style and safety.
9. AFX FX-50 Women's Helmet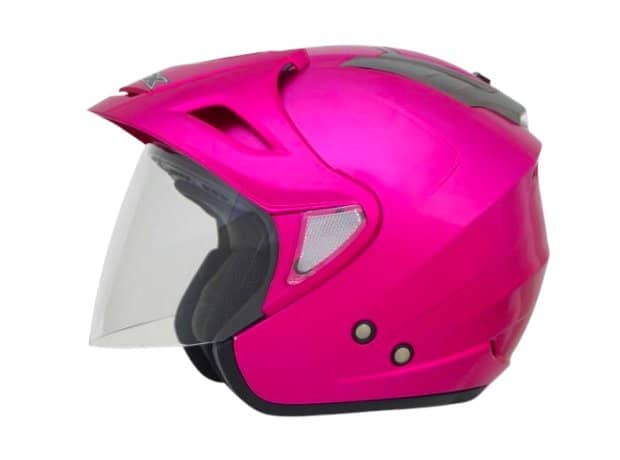 AFX FX-50 is another best pink motorcycle helmets for women. Its aerodynamic shell is constructed using an advanced lightweight composite poly-alloy, making it durable and lightweight.
The helmet liner and cheek pads are hypo-allergenic and anti-microbial, and they can be removed and washed for easy maintenance. The AFX FX-50 Women's Helmet meets or exceeds both ECE and DOT standards.
10. BILT Route Retro Helmet
Lastly, BILT Route Retro helmet is another great option with pink color. I must say, I'm in love with this helmet!
Having previously owned a Bell helmet, I was blown away by the lightweight and comfortable design of the BILT Route Retro Helmet.
It's a relief to wear a helmet that doesn't weigh me down or cause discomfort during my rides. And let's not forget about the tinted visor – it's been a lifesaver for me, especially when I forget my sunglasses at home.
Overall, I'm extremely satisfied with my purchase and highly recommend this helmet to any rider looking for a comfortable, stylish, and practical option.
Conclusion
I always prefer to ride with AGV helmets because they're trustworthy. If you're a motorcycle enthusiast, I would advise investing in a trustworthy helmet brand because it protects you from accidents.
I hope you've selected a pink helmet from the above list and found this article helpful. Don't forget t share which helmet you liked most. Please share the name of that product in the comment box.