160+ Unique And Cool Motorcycle Names Ideas In 2023
A unique motorcycle name will make you stand out in the biker's gang. The cool name will give you a unique identity in the motorcycle club. So, this article is all about some unique cool, and funky motorcycle names (with meaning) that suit your personality.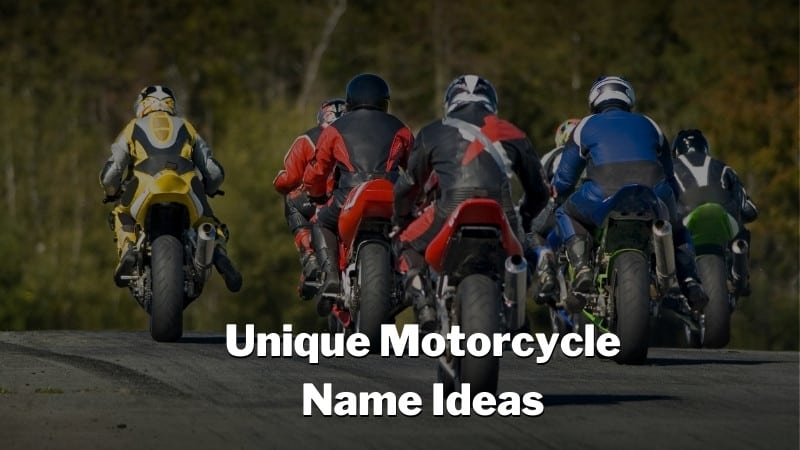 All-time Favorite Motorcycle Names With Meanings
Everyone has different personalities and tastes, but these are my all-time favorite motorcycle names. I hope you'll also love these names…
| Motorcycle Name | Meaning |
| --- | --- |
| Thunderbolt | It represents the lightning-fast acceleration of a motorcycle. |
| Shotgun | It represents the motorcycle's speed in a compact size. |
| Ghost Rider | Inspired by the movie, this name represents a mysterious and supernatural rider. |
| Night Hawk | Inspired by the nocturnal bird of prey, this name represents a sleek and stealthy ride. |
| Iron Horse | This name represents strength, speed, and durability. |
| Hellfire | This name represents a fierce and unbeatable force. |
| Viper | Inspired by a venomous snake known for its speed and agility, this name represents a quick and deadly ride. |
| Road Warrior | This name represents a tough and resilient rider. |
| Savage | A name that signifies ferocity and raw power. |
| Black Widow | This name signifies danger and power. |
Cool Motorcycle Names For Female Riders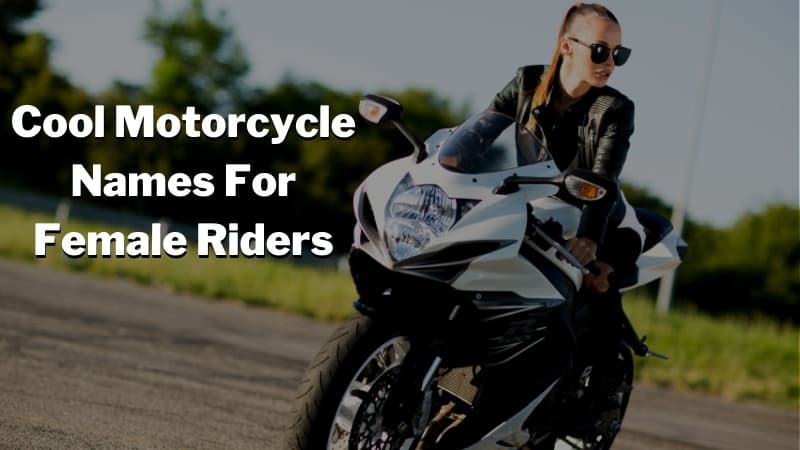 Ladies first, let's start with some cool motorcycle name ideas for female riders-
Harley Quinn
Raven
Patroller
Black Widow
Lioness
Amelia
Raani
Throttler
Lolita
Fisheye
Derbi
Bonnie
Tigress
Intervenant
Wind Chaser
Razor
Steel Stallion
Audrey
Dragonfly
Cipher
Habibi
Banshee
Venom
Diana
Infini
Challenger
Hitter
Veronica
Cloudy Queen
Neptune
Road Queen
Street Angel
Badass Motorcycle Names For Guys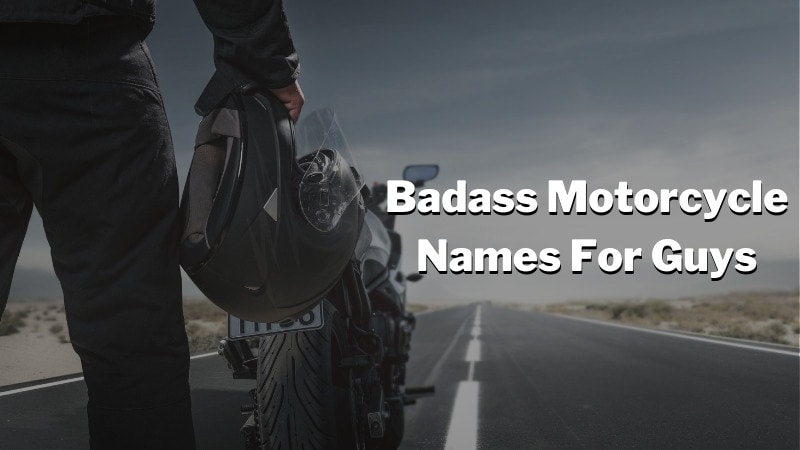 Thunderstruck
Destroyer
Reciprocator
Street Hunter
Migrator
Iron Heart
The Punisher
Transformer
Death Machine
Jaguar
Rebel Soul
Panther
Silver Bullet
Bruiser
Road King
Griller
Phantom Rider
The Reciprocator
Tiger
Night Wolf
Hunter
Street Sweeper
Black Motorcycle Names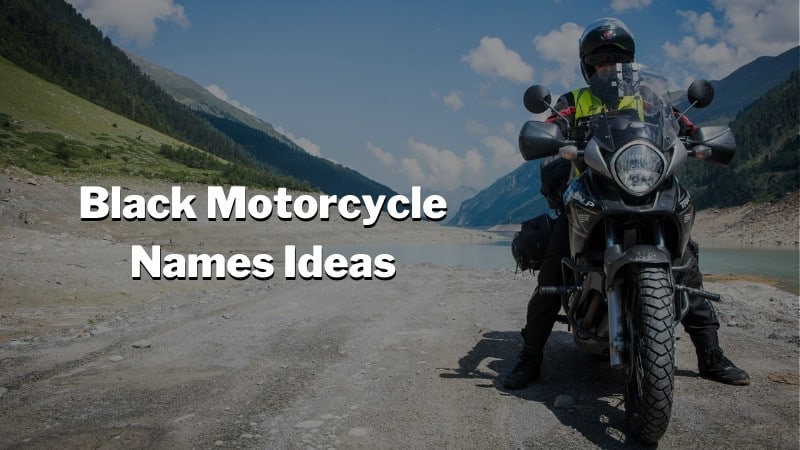 If your motorcycle color is black, then you might love these funky motorcycle names-
Black Mamba
Black Crusher
Code Black
Dark Horse
Shadow Hawk
The Godfather
FireBlade
Black Robo
Dark Angel
Witcher
Night Train
Dark Fantasy
Blackbird
Night Owl
Starlight
Voyage
Night Wolf
Night Blade
Midnight Thunder
Night Runner
Shadow Viper
Shadowfax
Black Swan
Dark Hammer
Black Zeus
Blue Motorcycle Names
You should pick a unique name that sounds similar to your motorcycle color. Here are some blue motorcycle names-
Blue Thunder
The Strome
Cloudy Queen
Aqua Haze
Cobalt Cruiser
Aquamarine Racer
Heaven
Blue Bull
Blue Demon
Cloud Chaser
Blue Boss
Blue Dragon
Indigo Knight
Blue Wave
Blue Shark
Blue Cyclone
Blue Typhoon
Sky Shine
Peacock
Titanium
Funny Motorcycle Names Ideas
If you want to give a funny name to your motorcycle, here are some great funny motorcycle name ideas-
Slowpoke
Landlubber
Silver Pigeon
Snail
Turtlemobile
Creaky Cruiser
Sputterer
Wobbler
Fuzzy Wuzzy
Yabba Dabba Doo
Booger Bike
Banana Peel
Bumblebee
Hola
Rattletrap
Chihuahua
Juncker
Goblin
Voyager
Flying Merkel
Fat Boy
Globetrotter
Wackwitz
Immortal
Adonis
Strong Motorcycle Names
If your bike is powerful and has strong build quality (Harley Davidson), here are some strong motorcycle names ideas-
Steel Thunder
Iron Bruit
Thunderbolt
Iron Horse
Road Warrior
Throttler
Ironside
Steel Stallion
Titan Cruiser
Dominator
Destroyer
Enforcer
Terminator
Thunderstorm
Juggernaut
Bullet
Haunter
Big Bass
Defender
Python
Racer Motorcycle Names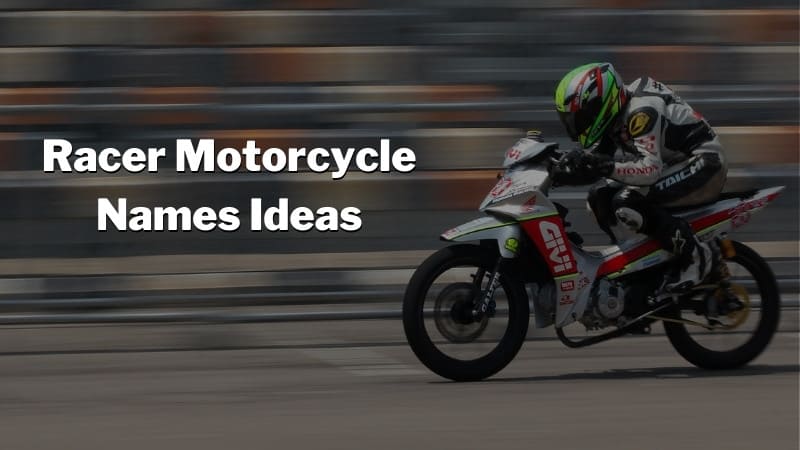 If you own a high-speed superbike, then you may love these names-
Bullet
Tomahawk
Thunderbolt
Speed Demon
Turbocharged Terror
Sonic Speeder
The Blur
Road Rocket
Jet Moto
Velocity Vixen
Nitro Ninja
Fast Fury
Speedster
The Blaze
Fireblade
Firefly
The Rocket
High-Speed Hurricane
Mach Moto
Lightning Bolt
Speed Vulture
Conclusion
Choosing the perfect name for your motorcycle can be a fun and exciting process. Whether you're looking for a cool, badass, or funny name, plenty of options exist to suit your style and personality. A well-chosen name can add to the identity of your motorcycle and make it more unique and personalized.