Can 250CC Motorcycles Go On Highway? – Beginner's Guide
If you're just a beginner, you might be confused about picking your first motorcycle. A 250cc is a good entry-level motorcycle for beginners. I started the motorcycle journey with a 250cc Honda NSR250R. But, I was not sure whether it was safe for interstate highway rides.
If you're also in the same dilemma, this guide will explain everything in detail. In this guide, I'll cover all the aspects of a 250cc beginner motorcycle.
So, can you take a 250cc motorcycle on highways? A 250cc motorcycle is legal and safe to ride on highways. You can make long trips on highways with a 250cc bike. My Kawasaki Ninja 250R can attain 80mph speed in just 8 to 10 seconds, which is sufficient to ride on the highway. However, a motorcycle with less than 250cc engine is unsafe to ride on the highway.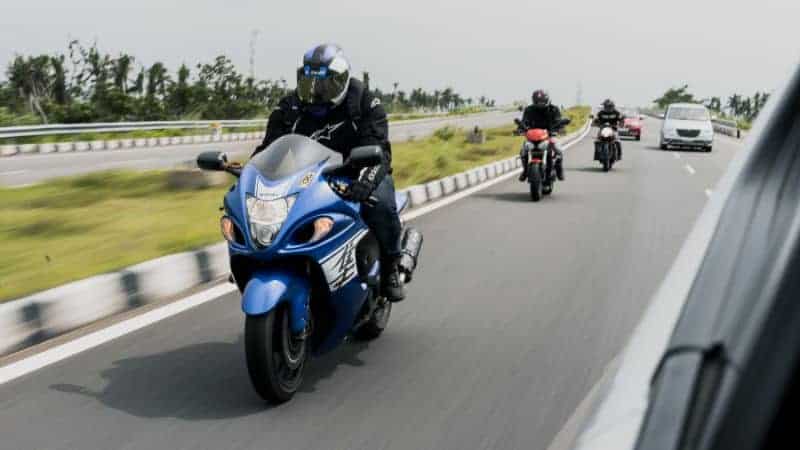 How Many CC Do You Need to Go on the Highway?
Most highway traffic in the United States moves at 70 to 80 miles per hour, and a motorcycle with 250cc can easily run at 80 to 90 mph. The traffic law says you're not allowed to drive a 50cc or less engine size vehicle on the highways, but it's unsafe to ride a less than 250cc motorcycle on highways because it could be dangerous for you or other motorists.
What is the Lowest Highways Speed in the USA?
The minimum and maximum speed limit depends upon the category of the highway and its location. The rural Interstate highways carry a 70 mph (115 km/h) limit and a 40 mph (65 km/h) minimum, while urban interstate limits generally range from 55 to 65 mph (90 to 105 km/h) but may be lower in some areas.
How Fast Can a 250cc Motorcycle Go?
The top speed depends upon the motorcycle's engine size, weight, and aerodynamics. The average top speed of a 250cc motorcycle is 85 to 100mph. However, some 250cc bikes, like Kawasaki Ninja 250R, Honda NSR250R, Yamaha TZR250, Suzuki RGV 250, etc., can go more than 120 mph. I've used Kawasaki Ninja 250R, which can achieve 0 to 80 mph within 10 seconds.
How Much Horsepower is 250cc?
The horsepower of a motorcycle depends upon the combustion ratio and RPM of the engine. If you supply a rich air-fuel ratio in the engine cylinder, you'll get more power out of it. But, on average, a 250cc motorcycle gets anywhere between 25 to 40 HP power.
Is a 250cc Motorcycle Good For Beginners?
Start your riding journey with a lower-capacity motorcycle because handling a heavy and powerful engine motorcycle is difficult for a beginner. A 250cc motorcycle is perfect for beginners because it's not too difficult to handle and ride.
A 250cc motorcycle gives 35 to 40 N-m torque at 6000 to 8000 RPM, which can achieve up to 130 mph top speed. You are allowed to ride 250cc bikes on interstate highways and freeways.
Is a 250cc Motorcycle Worth It?
A 250cc motorcycle is comparatively cheaper compared to higher-engine capacity bikes. Also, the fuel economy of 250cc bikes is excellent. You get more than 70 to 100 MPG on a 250cc motorcycles.
There is high demand for 250cc bikes in the United States, but supply is less, so the resale value of 250cc is great. You can easily sell your motorcycle after a few years and switch to a higher-engine capacity bike in the future.
So, a 250cc motorcycle is totally worth buying!
Which Is The Fastest 250cc Motorcycle?
The average top speed of 250cc sportbikes is 85 to 100mph, but some bikes with the same engine capacity can go up to 130 mph. The fastest 250cc motorcycle is the Kawasaki KR250 which generates 33.5 kW of power at 10000 rpm with a top speed of 139 miles per hour.
Here are the top 5 fastest 250cc motorcycles that you can buy:
| | | |
| --- | --- | --- |
| Motorcycle | Engine Power | Top Speed |
| Kawasaki KR250 | 33.5 kW @10000 RPM | 139 mph |
| Honda NSR250R | 32.8 kW @9500 RPM | 130 mph |
| Suzuki RGV 250 | 45.3 kW @11000 RPM | 130 mph |
| Aprilia RS250 | 40.1 kW @11000 RPM | 123 mph |
| Yamaha TZR250 | 42 kW @11000 RPM | 118 mph |
Conclusion
A 250cc is a good starter bike for beginners, and it can go on interstate highways and freeways. The average traffic speed on highways in the USA runs at 70 to 80 mph, and 250cc bikes from popular brands like Kawasaki, Honda, Suzuki, Yamaha, etc., can achieve a top speed between 100 to 135 mph.
In fact, the 250cc bikes are affordable to buy, and it has great resale value because of high demand and limited supply. So, you can start your motorcycling journey with a 250cc bike.