How Fast Can Honda Grom Go? – Top Speed (Claimed By Riders)
Honda Grom is a world-popular choice for beginner riders because of its lightweight and compact design. It's perfect for someone who wants to learn and improve their riding skills.
This mini bike is a powerful and budget-friendly choice for beginners. However, people still have many questions, especially about the 2023 Honda Grom top speed.
This guide will clarify all doubts about Honda Grom's maximum speed, engine size, horsepower, torque, gas mileage, and other technical specifications.
So, how fast can Honda Grom go? The company claimed the top speed of the 2023 Honda Grom is 59 mph, but some riders reported reaching up to 73 mph. So, you can easily rev your Grom above 50 miles per hour. However, top speed depends on various other factors such as rider's weight, road conditions, tire pressure, etc.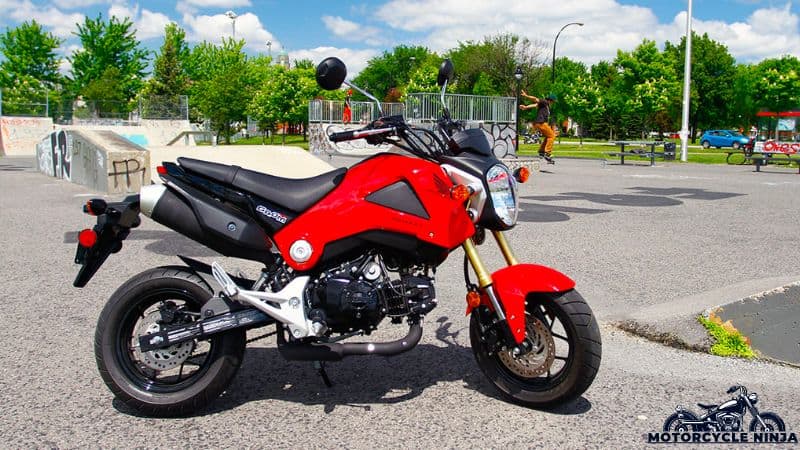 Honda Grom Top Speed Chart (All Generation)
Honda Grom was launched in 2014 in the US market, and its engine performance has improved over the years. That's why it became a popular mini-bike among youngsters. The latest 2023 Honda Grom's maximum speed is 59 mph, but some riders reached 73 mph with modifications.
I have prepared a table that contains the official maximum speed and what some riders claimed on the road.
| Grom Generation | Top Speed (Official) | Highest Claimed Top Speed (By Riders) |
| --- | --- | --- |
| 2022 | ~ 59 mph | ~ 73 mph |
| 2020 | ~ 54 mph | ~ 62 mph |
| 2016 | ~ 56 mph | ~ 62 mph |
| 2014 | ~ 55 mph | ~ 65 mph |
What Makes 2023 Honda Grom Faster?
As you've seen that Honda has consistently improved its top speed. It happened because the latest 2023 Grom weighs lesser than its previous generation. Also, it uses five-speed manual transmission, while the older generation has 4-speed transmission only.
In the later part of this article, I have mentioned some important factors that affect the Honda Grom's top speed. Don't miss reading that.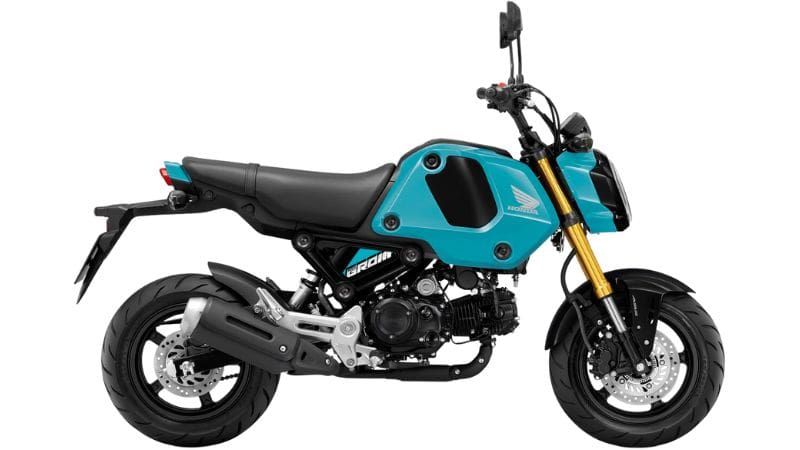 2023 Honda Grom Engine Specification
If you're thinking of purchasing Honda Grom 2023 model (launched in March 2022), don't miss out on checking its engine specification and other features.
Here's the engine specification for the 2023 Honda Grom motorcycle:
| Specifications | Value |
| --- | --- |
| Engine Size | 123.9 cc (Cubic Centimeter) |
| Power Generation | 9.7 Horsepower |
| Engine Type | Single Cylinder 4-Stroke |
| Cooling Method | Air Cooled |
| Valve Train | SOHC; 2-Valve |
| Bore x Stroke | 50.0 mm x 63.1 mm |
| Compression Ratio | 10.0:1 |
| Induction | PGM-FI Automatic Fuel Injection |
| Ignition | Full Transistorized |
| Clutch | Multiplate Wet |
| Transmission | 5-Speed Manual |
| Starter | Electric |
| Driveline | Chain & Sprocket (15T/38T) |
What Factors Affects Honda Grom Top Speed?
While searching for Honda Grom's top speed, you must have seen different values claimed by riders. The top speed value differs because many external factors are associated with it.
Let's find out what factors affect the Honda Grom's top speed-
1. Weight
The rider's weight and other accessories dramatically affect the top speed of the Honda Grom or any other motorcycle.
It's because some power is consumed to carry that extra weight. Hence, if the rider is skinny, he will win the race with a heavyweight guy.
So, try to lose some pounds and reduce extra weight from your motorcycle to win the race. Even 2 pounds weight makes the difference in top speed.
2. Wind
Honda Grom is designed aerodynamically, but wind drag still tries to stop the vehicle. If the wind direction is against you, it's tough to reach 59 mph. However, if the wind direction is along with you, Honda Grom can go much faster.
So, bend down on the gas tank and keep your legs closed while riding your groom to minimize air resistance.
3. Road Conditions
The road conditions also affect the top speed. If you're riding uphill, Honda Grom will not reach 50 mph. But, if you're riding downhill, you'll get the highest speed out of your Grom, which can reach up to 73 mph.
4. Tire Pressure
Have you tried moving a flatten tire motorcycle? You must have found it difficult. But it's very easy to move a bike with good tire pressure. Many riders don't pay attention to this area, but it affects the motorcycle's top speed.
So, if you want maximum speed from your Honda Grom or any other motorcycle, maintain the tire pressure at recommended levels.
Front Tire Pressure: 32- 35 Psi
Rear Tire Pressure: 40- 42 Psi
5. Mods
Manufacturers are bound to emission norms and regulations, but mods can significantly improve a motorcycle's top speed. A good-quality fuel injector, a better spark plug, good air intake, and exhaust can increase the Honda Grom's power and top speed.
I have written a detailed guide on various methods to make a motorcycle faster. You can read that guide and follow those tips to increase your Grom's top speed.
Frequently Asked Questions
Is Honda Grom Great For Beginners?
It's a great beginner-friendly motorcycle for learning various riding skills and boosting confidence. In fact, Honda Grom is the first choice for many riders because of its compact and small design.
Can Honda Grom Go On Freeway?
Honda Grom is illegal for freeway or highway, but some riders still do it. The average traffic speed on interstate highways moves at 65-70 mph, and the freeway is 70-80 mph, but 2023 Grom can reach a maximum of 59 mph (official). So, taking Honda Grom on the highway or freeway is unsafe.
Can You Make Honda Grom Faster?
The official top speed for Honda Grom is 59 mph, but some riders reported reaching 73 mph on this mini bike. So, it's possible to make Honda Grom faster with modifications. You install a better air filter to increase air intake, an aftermarket exhaust, and a high-performance spark plug to increase its top speed.
Conclusion
The maximum speed for Honda Grom is 73 mph (claimed by riders), which is very good for such a small bike. Also, it has a 125cc air-cooled engine that produces 9.7 horsepower with a top speed of 59 mph (official).
Due to its compact design and small engine size, it's fuel-efficient and easy to maneuver in city rides. Grom is the best beginner-friendly motorcycle for women and short riders.
So, what are you waiting for? Get this popular yet powerful beast at home and improve your riding skill.