How Often To Change Oil On Honda Grom? – No More Confusion!
Many Honda Grom owners have been confused about engine oil change intervals. Some think it should be changed every 600 miles (mentioned in the owner's manual), while others think it should be changed every 4000 miles.
Are you also confused about your Honda Grom's correct oil change intervals?
This is the ultimate oil change guide for Honda Grom. I have explained everything about the Honda Grom oil change in this guide.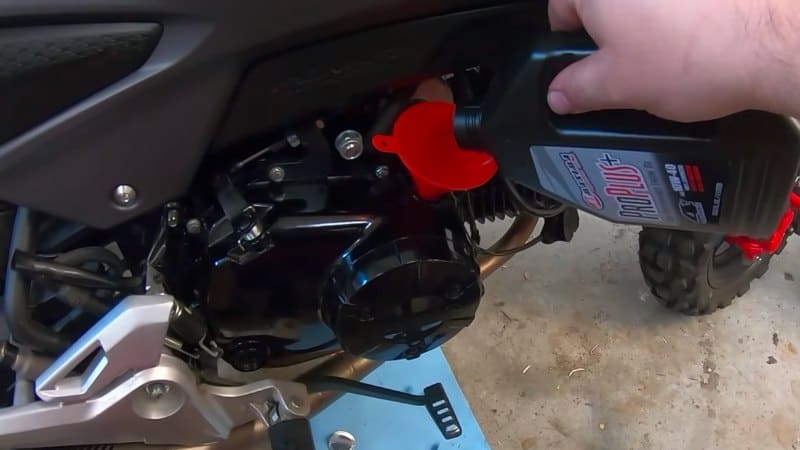 Let's start with a very common question that thousands of people ask…
How often to change the engine oil on Honda Grom? Honda recommends changing the engine oil on Grom under 600 miles on the first service and every 2500 miles from the second service onwards. However, some riders prefer to change Grom oil every 1500-2000 miles to achieve high performance and engine longevity. I also recommend the same intervals for oil changes.
What Often To Change Oil On Honda Groom?
Unlike other motorcycles, Honda Grom doesn't have an oil filter. Rather, it uses a screen to clean the dust and metal chips from the oil. The oil should be changed on the first service, i.e., 500-600 miles or one month. After the first service, change the Grom oil every 2000-2500 miles or 12 months.
I have prepared the Honda Grom oil change intervals table for better understanding.
| Service | Manufacturer (Cost Effective) | Our Recommendation (Power & Longevity) | Time (From Date Of Purchase) |
| --- | --- | --- | --- |
| First | 500-600 Miles | 500-600 Miles | 1 Month |
| Second | 4000-4500 Miles | 2500-3000 Miles | 12 Months |
| Third | 8000-8500 Miles | 5000-5500 Miles | 24 Months |
| Fourth | 12000-12500 Miles | 7500-8000 Miles | 36 Months |
| Fifth | 16000-16500 Miles | 10000-10500 Miles | 48 Months |
| Sixth | 20000-20500 Miles | 12500-13000 Miles | 60 Months |
| Seventh | 24000-25000 Miles | 15000-16000 Miles | 72 Months |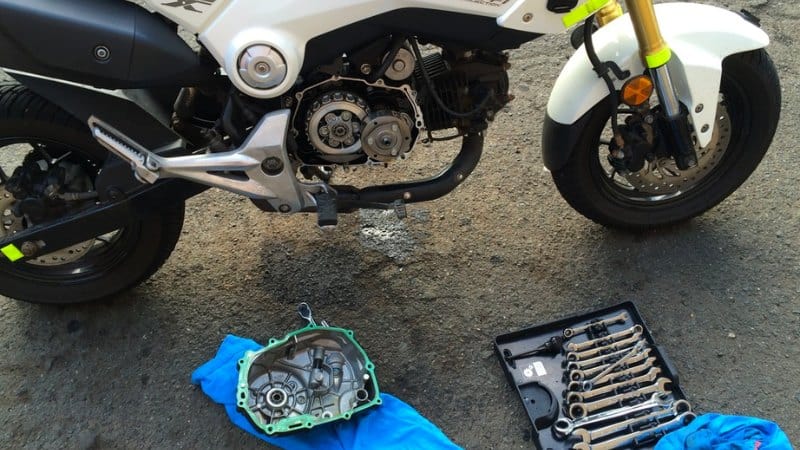 How Much Does Honda Grom Oil Change Cost?
Honda Grom is very cost-effective in terms of service and maintenance. It also gives excellent miles per gallon (mpg) and performance. If you're taking your Grom to an authorized Honda service center, an oil change will cost approximately $250 to $500. However, you can change it at home by yourself and save a lot on mechanic costs. It barely costs $100 and takes only 40 to 60 minutes.
What Type Of Oil For Honda Grom?
Honda Grom has a 125cc four-stroke single-cylinder air-cooled engine requiring 10W30 engine oil. You can use fully synthetic 10W30 oil for better engine performance and lubrication in your Honda Grom.
How Much Oil Does Honda Grom Take?
Honda Grom takes 900 ML engine oil when you just drained it and 1100 ML when the engine case is disassembled (for replacing the screener). After filling the oil, you can check the level with a dipstick and ensure it's under the recommended mark.
Too much oil creates many problems in the long run. I have written a detailed guide on this topic.
How Often To Change Honda Grom Oil Filter?
Honda Grom uses an oil screen instead of an oil filter to save space and make this beast compact. You should clean the oil screen after 600 miles and replace it every 2500 to 3000 miles.
What Happens When You Don't Change Engine Oil?
The purpose of engine oil is to lubricate various parts (piston, crankshaft, connecting rod, geartrain, clutch plates, etc.) and keep the engine cool. Over time, the engine oil loses its lubrication characteristic and becomes thicker.
When you don't change the oil at recommended intervals, the engine lubrication fails, and the temperature increases, which results in the seized engine.
Conclusion
Honda recommends first oil change at 600 miles, then after every 4000 miles. However, many riders change it after 2000-2500 miles for better performance and longevity. The oil change is easy and cheaper, so riders change it often. It takes approximately 1 liter of fully synthetic 10W30 grade oil.
I hope this guide was helpful. Please share your valuable feedback in the comment box.