2023 Honda Rebel 1100T DCT [Specs, Features, Top Speed, Photos]
Honda has expanded its Rebel series with the 2023 Rebel 1100T DCT, a motorcycle that stands out with its "bagger" designation.
This model is not merely an iteration but a statement crafted for riders who seek the cool factor of a cruiser with the added benefit of touring capabilities​.
2023 Honda Rebel Specifications
| Specification | Details |
| --- | --- |
| Engine Size | 1,083cc |
| Engine Type | Liquid-cooled Unicam® four-stroke 22.5º parallel-twin |
| Horsepower | 86 hp |
| Torque | 72 lb-ft (97.6 N-m) |
| Transmission System | 6-speed Automatic DCT |
| Top Speed | 128 mph |
| Oil Capacity | 4.4 quarts |
| Fuel Tank Capacity | 3.6 gal (13.6 liters) with a 1.1 gal. reserve |
| Curb Weight | 542 lbs. (246 kg) |
| Seat Height | 27.5 in. (69.9 cm) |
| Compression Ratio | 10.1:1 |
Design & Styling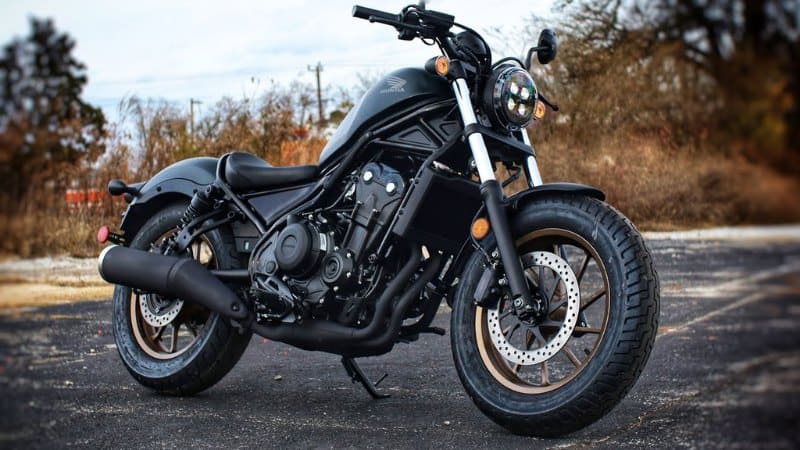 Honda's design philosophy for the Rebel 1100T DCT takes a minimalist yet impactful approach.
The motorcycle sports a rugged, industrial vibe with visible framing and a lack of body panels, a departure from its predecessors.
It features all-around LED lighting, including a classic round headlight with four LED projectors, ensuring visibility during night rides​​.
Performance & Handling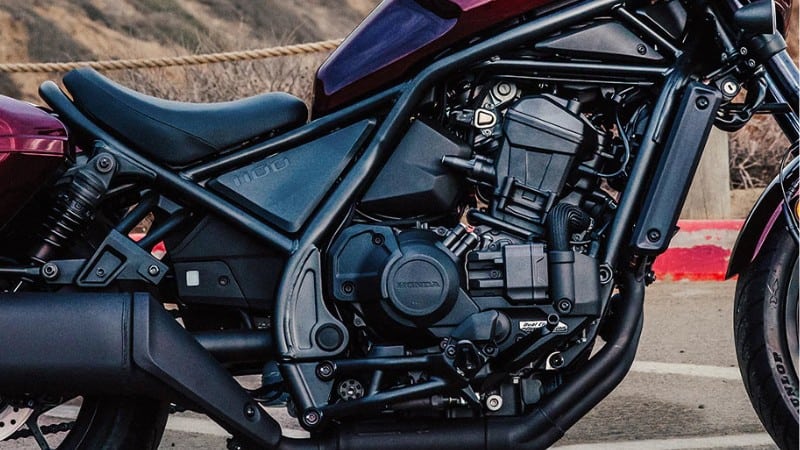 At the heart of the Rebel 1100T DCT is a liquid-cooled, 1083 cc parallel-twin engine, delivering 86 horsepower at 7,000 RPM and 72 lb-ft of torque at 4,750 RPM.
This powerplant is a tuned version of the Africa Twin engine, with a 270-degree firing order that mimics the feel of a V-twin and provides ample low-end grunt.
The six-speed automatic Dual Clutch Transmission (DCT) ensures a seamless riding experience with options for manual shifting if desired. It also features torque and wheelie control for added safety​​.
Touring Features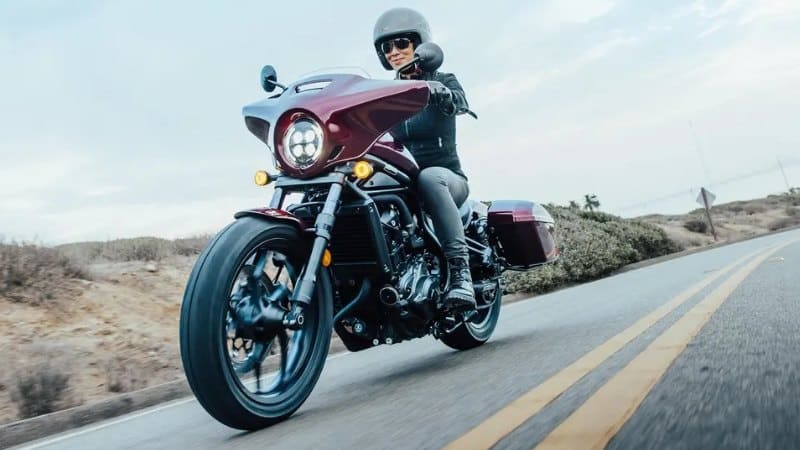 The "T" in Rebel 1100T DCT stands for touring, and Honda has equipped it with features to match this moniker.
The bike includes a batwing-style fairing and compact, locking plastic side cases offering 35 liters of cargo space, all color-matched to the bike for a cohesive and stylish look.
These additions transform the standard Rebel into a more tour-ready machine, albeit with a weight increase of 33 pounds​​.
Technology & Comfort
Riders can enjoy modern conveniences like throttle-by-wire and three preset riding modes—Sport, Standard, and Rain—alongside a customizable User mode.
This system allows riders to adjust throttle response, shifting aggressiveness, traction control, and engine compression braking on the go.
However, the bike is not designed for extreme weather touring, as the fairing offers wind protection but not full isolation.
Aesthetic Choices and Pricing
The Rebel 1100T DCT is available in two color choices: Metallic Black and Bordeaux Red Metallic, giving potential buyers a choice between a classic and a more striking look.
Its price tag of $11,299 makes it a competitive option for those seeking a mid-range cruiser with touring capabilities​​.
Conclusion
The 2023 Honda Rebel 1100T DCT balances the raw appeal of a cruiser and the added functionalities of a touring motorcycle. It's a machine that doesn't shy away from standing out, both in terms of design and performance. Whether it's for daily commuting or weekend getaways, the Rebel 1100T DCT is poised to deliver a riding experience that's both enjoyable and practical.