How Fast Do Cruiser Motorcycles Go? – (8 Examples)
Although Cruiser motorcycles come with powerful engine wight high torque, they don't go as fast as sports bikes. It's because cruiser bikes are made for more comfortable rides than racing. The sitting posture on cruiser bikes is straightforward so that you won't face back pain in long-distance rides. You can comfortably cruise at 60 to 80 mph speed.
So, how fast do cruiser motorcycles go? The average top speed of cruiser bikes is 90 to 130 mph because speed is not the priority for such bikes. Rather, the company focuses more on stability for comfortable rides. The fastest Harley-Davidson cruiser bike was the 2001 V-Rod which pick-up 0 to 60 mph in just 3.5 seconds with a top speed of 130 mph.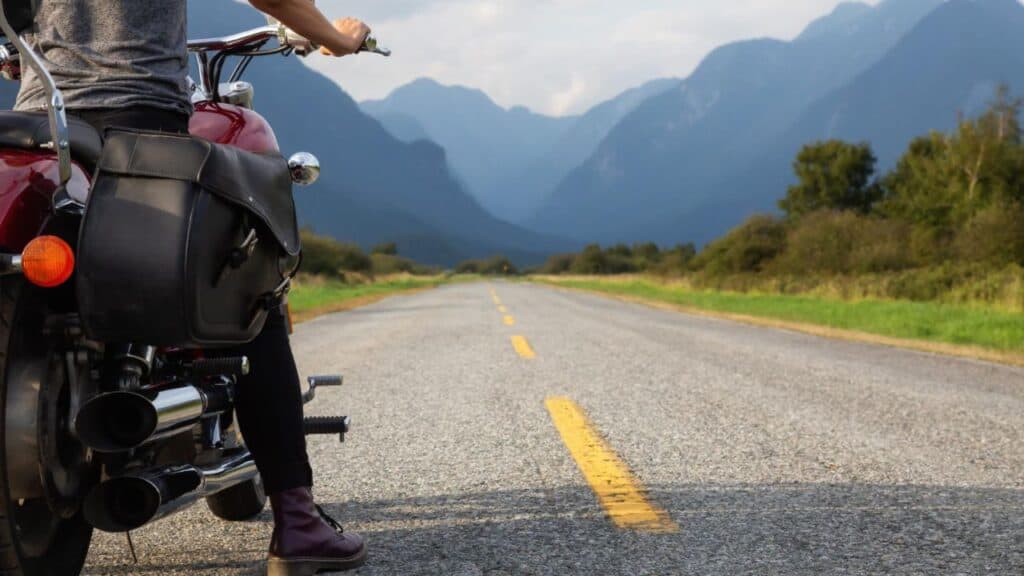 How Fast Can Cruiser Motorcycles Go?
The cruiser motorcycles can go up to 90- 130 mph, depending on the engine capacity and weight. A 1200cc cruiser motorcycle can run at the maximum speed of 130 mph; however, a sports bike can reach 170 mph with the same engine capacity. This speed difference occurs due to aerodynamic design and less weight in sports bikes.
Average Top Speed Of Cruiser and Sports Motorcycles
| | | |
| --- | --- | --- |
| Engine Capacity (Cubic Centimetre) | Cruiser Bikes | Sports Bikes |
| 350cc | 70 to 80 mph | 85 to 110 mph |
| 500cc | 70 to 90 mph | 90 to 120 mph |
| 650cc | 80 to 100 mph | 100 to 140 mph |
| 800cc | 90 to 110 mph | 120 to 160 mph |
| 1000cc | 90 to 115 mph | 150 to 170 mph |
| 1200cc | 100 to 130 mph | 170 to 180 mph |
| 1500cc | 120 to 140 mph | 200 to 250 mph |
| 1800cc | 120 to 150 mph | 250 to 300 mph |
The Fastest Cruiser Motorcycles in The World
Check the table below if you're looking for the world's fastest cruiser motorcycles. I've mentioned the motorcycle name, engine capacity, and top speed.
| | | |
| --- | --- | --- |
| Cruiser Bike | Engine Capacity | Top Speed |
| Ducati Diavel 1260 S | 1262cc | 165 mph |
| Yamaha VMAX | 1679cc | 150 mph |
| Triumph Rocket 3 R | 2458cc | 145 mph |
| Triumph Rocket III Roadster | 2294cc | 140 mph |
| Honda Gold Wing Valkyrie | 1832cc | 130 mph |
| Harley-Davidson 2022 V-Rod | 1247cc | 130 mph |
| Yamaha XV1900A Star Raider | 1854cc | 120 mph |
| Suzuki Boulevard M109R | 1783cc | 110 mph |
Why Should Buy a Cruiser Motorcycle Over a Sports Bike?
Sports bikes are good for your needs if high speed is your priority. But cruiser motorcycles come with great features.
Here's why you should buy a cruiser motorcycle over a sports bike:
1. Comfortable Rides
The cruiser motorcycles are not designed aerodynamically; hence you don't have to drive in bending positions. The cruisers have lower seating and wide handlebars inclined towards the rear, making them perfect and comfortable for daily rides.
The sitting posture is quite comfortable on cruiser bikes, and you won't feel tiredness and back pain in longer rides. So,
2. Good For Off-roading
Cruiser bikes are a good choice for off-roading if you frequently go to hilly areas and camping. Cruiser motorcycles have powerful engine that delivers high torque to the wheel, making it easy to ride in bad road conditions.
3. Good For Long Rides
When it comes to long rides, your motorcycle should be stable and comfortable. Also, it should have a larger fuel tank that carries enough fuel to ride outside the city. A cruiser motorcycle has all these features, which makes it the perfect bike for long rides.
4. Powerful Engine
A powerful engine is another important factor you should consider while purchasing a motorcycle. All cruiser bikes have an extremely powerful and robust engine that delivers high torque whenever required. Riding a powerful engine cruiser bike gives extra confidence while overtaking.
5. Easy Maintenance
The design of cruiser motorcycles is not complicated; hence maintenance is quite easy. Until and unless you need any major service or modification, you don't need to visit a mechanic shop. You don't need to open any covers or nut bolts for regular maintenance.
Conclusion
Cruiser bikes are not made for racing; rather, they're designed for stable and comfortable rides. That's why the weight of cruiser motorcycles is higher than sports bikes. Still, Ducati Diavel 1260 S and Yamaha VMAX (both cruiser bikes) can reach the top speed of 165 mph and 150 mph, respectively. I hope you found this article helpful. Please share your valuable feedback in the comments.